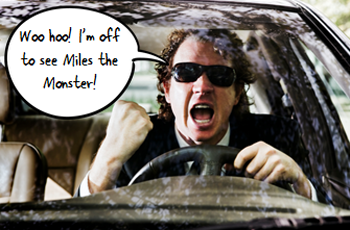 In an earlier post we looked at how to build branched scenarios for interactive elearning courses. Branched scenarios are great for simulating the types of real-world decisions a learner needs to make on the job.
As noted in the earlier post, it's not always easy to create a branched scenario if you're not the content expert. The main reason is that decision-making scenarios depend on a nuanced understanding of the subject matter so that you can guide the learner through the activity.
The Critical Path
Most elearning courses have a critical path. Essentially it's a completely correct path. With a linear elearning course it's easy to stay on the critical path because all the learner does is move from one screen to the next.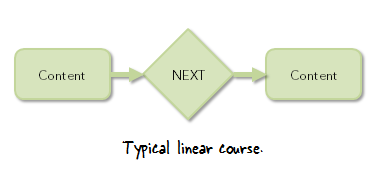 Branching allows you to take the learner off of the critical path as she makes decisions. This adds complexity to the learning experience. Usually what happens is that branches resolve on different paths. Sometimes there are multiple alternative correct paths. Sometimes the path just ends and forces the learner to restart or go to some sort of remedial instruction.
This is all really good if you have the time and resources to build the interactive situation. But what if you don't?
Stay on the Critical Path
A simple way to create a branched decision-making scenario is to always force the learner back to the critical path. Imagine it like a road trip. You need to drive from New York to Washington DC to pick up your Aunt Betsy and you're on a tight schedule. The first thing you do is map out the path that will make you successful. That's the critical path.
Suppose while driving you see a sign advertising Miles the Monster, the world's largest concrete monster. Surely Aunt Betsy can wait and off you go. Mistake! You're now off the critical path and wasting precious time. Your family calls, tells you Aunt Betsy is waiting and they get you back on the critical path.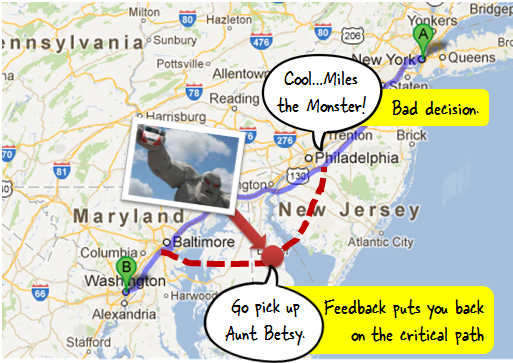 Single Critical Path
Using a single critical path is a simple way to build a branched scenario. Build out you decision-making challenges. The 3C model is a good model to use. But instead of continuing on a separate path, which is more difficult to manage, find a way to bring the learner back to the critical path.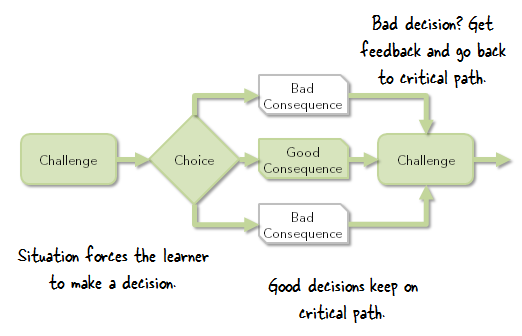 This helps keep the construction of the scenario simple and manageable. But it doesn't necessarily mean the scenario itself has to be simple. For example, you can alter the flow and pacing of the branches. But eventually moving forward in the scenario requires getting back on the critical path.
Multi-tiered Interactive Branches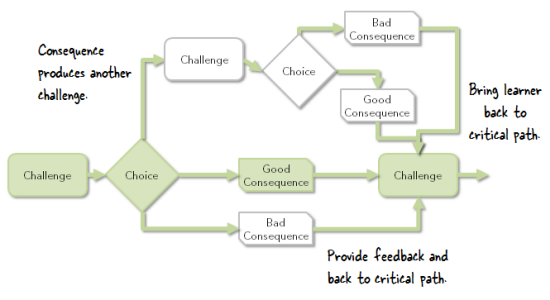 The goal is to keep the scenario moving forward by keeping to the critical path. But that doesn't mean you have to immediately bring the person back to the path after the first deviation from it. You can allow them to drift away a few levels as they make decisions. But ultimately you want them to come back to the critical path.
Reconcile Feedback
The key in getting them back to the critical path is providing the feedback to reconcile decisions they made that took them off of the path in the first place. If you want to keep it simple, let them make a wrong decision, provide immediate feedback, and then put them back on the path.
But when we make decisions in real life, we don't always get immediate feedback. Another option is to hold the feedback through a few decisions and then provide some consolidated feedback. Delaying the feedback lets the learner work through the consequences of the decisions made.
There's really no right or wrong way to build interactive branched scenarios. Ultimately it depends on the content and context of the interaction. And then of course your resources are a key consideration. If you have time and resources, a complex branched interaction can be a great way to create an interactive and engaging learning experience.
However, if you are pressed for time and have limited access to subject matter experts, then a simplified scenario that always reverts back to the critical path is great way to go.
What are some of the challenges you face when crafting interactive scenarios? What advice do you have for those new to all of this? Please share your thoughts by clicking on the comments link.
---
Upcoming E-Learning Events
Articulate Roadshows. Join us for one or two days of e-learning goodness. Day 1 focuses on more general e-learning topics and Day 2 is centered on learning to build some nice, reusable interactions. They're great activities to help you learn more about the tools. Sign up using the links below. Seats are limited for the events. If you're interested in presenting at one of the roadshows, let me know.
Boston: July 18 & 19. Early bird rate expires July 7. Register here.
Toronto: August 9 & 10. Early bird rate expires July 21. Register here.
Seattle: August 21 & 22. Early bird rate expires August 7. Register here.
Austin: September 12 & 13. Early bird rate expires August 28. Register here.
San Francisco: October 10 & 11. Early bird rate expires September 15. Seats limited for this event. Register here.
London: November 13 & 14. Details coming soon.
Manchester: November 16 & 17. Seats will be limited. Details coming soon.
There are a couple of other events planned. Once we get all of the bookings confirmed, we'll add the registration page and info.
---
Free E-Learning Resources
16 responses to "A Simple Approach to Interactive E-Learning"