If you add characters to your elearning courses, odds are that you're also adding some speech bubbles. PowerPoint comes with the ability to create your own text callouts, but I find that I like to use ones that look more organic than the PowerPoint shapes. I try to create my own.
I created some speech bubbles for a recent project so I'm making them available for you to use as you wish. I also added a few bonus tips below.
On a side note, you'll notice that the download links go to the new community site's download section. I now have a place to put all of the blog downloads so it'll be easier for you to find resources that I've shared in the past.  Not only can you find all of the resources from previous blog posts, but you can also get a bunch of other free assets to help with your elearning design.
Rounded Speech Bubbles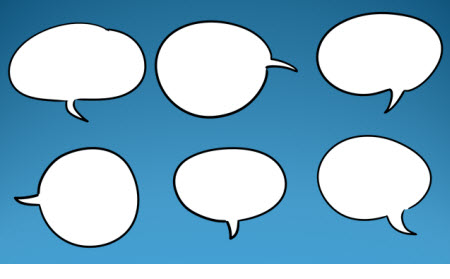 Download rounded speech bubbles here.
Squared Speech Bubbles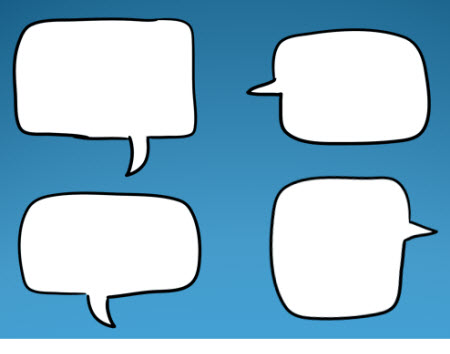 Download squared speech bubbles here.
Thought Clouds without Tails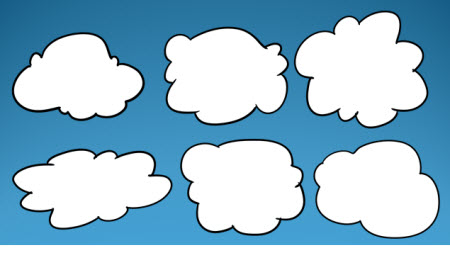 Thought Clouds with Tails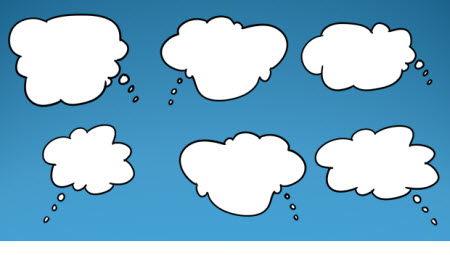 Download thought clouds with tails here.
Bonus Tips
Hope you can use the speech bubbles (and the other free stuff) for some elearning projects.  If there's something you'd like to see in the downloads, let me know.
---
Upcoming E-Learning Workshops & Events (2015)
E-Learning Heroes Roadshows
We're hosting a series of two-day elearning workshops that focus on practical tips and tricks. You can register for one day or two days. If you're interested in presenting at one of the workshops (or want to submit an idea) complete this form.
---
E-learning Community News
Check out all of the free resources below. You can grab a bunch of free downloads, see some nice examples, and learn everything you need to build great elearning.
27 responses to "Over 45 Free Speech Bubbles to Make Your E-Learning Courses Talk"