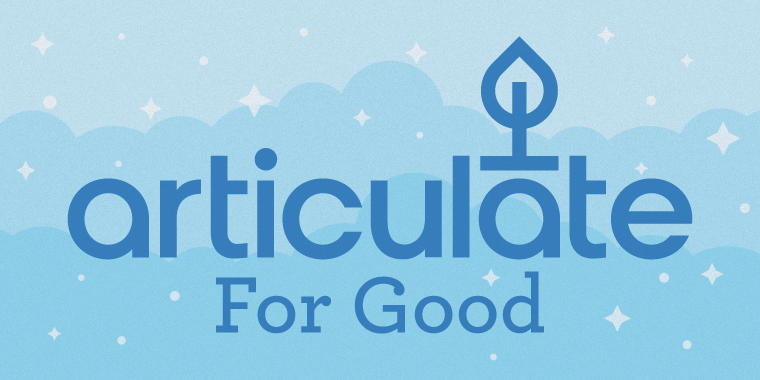 Articulate creates simple, powerful software that changes the way the world learns—and we want to spread Articulate love as far and wide as possible. That's why we're excited to announce Articulate for Good, our new giving project.
Articulate for Good helps nonprofit organizations create and deliver online training with grants that include Articulate software, cash, and training. Your organization can apply for grants to support either existing or new training efforts. We'll support training that's targeted at your internal employees or that's part of the programs and services you offer to the people you serve.
We're excited to expand our support for nonprofit organizations doing amazing work all over the country and can't wait to see what you create with our support!
What's Included in an Articulate for Good Grant
Articulate for Good grants can include Articulate software, cash grants, and training provided by our amazing partner, Yukon Learning. Specifically, grantees may receive:
Who's Eligible
Your nonprofit is welcome to apply for an Articulate for Good grant if it has current tax-exempt status under Section 501(c)(3) of the Internal Revenue Code. For now, we're limiting this program to U.S.-based organizations, but we hope to expand it internationally soon!
You're invited to apply for an Articulate for Good grant for any of these purposes:
Staff Training:

Expanding existing online training programs or creating a new online training program for your employees

External Training Programs:

Expanding existing online training or creating a new online training program for your constituents
Your organization must match each grant on a dollar-for-dollar basis. This can be an in-kind contribution of staff time.
We'll also need applicants to comply with our reporting requirements, including providing accounting information, progress reports, and images that we can use in case studies and other communications.
How You Apply

If your organization is eligible, we'd love for you to apply for an Articulate for Good grant. Just write us a note (Google Doc or Dropbox link to a doc) addressing the following points and send it to 4good@articulate.com by November 30, 2015.
Describe your organization's mission and program activities.

Provide contact information for your organization and the person you'd like us to contact about your application. Please also include your IRS tax ID number.

Tell us about the training you'll create with support from your Articulate for Good grant. Who's the audience for the online training you'll create? What's the purpose of the training? How will you measure its success?

Please describe your Articulate for Good Grant request, specifying if you're requesting Articulate software licenses, cash, an Articulate Online account, and/or training.

Please provide a project budget and show how you'll provide your one-to-one match.

Tell us your plan for successfully creating and implementing online training if you receive an Articulate for Good grant. Do you have staff familiar with using online authoring tools and learning management systems?

How long will it take to realize the expected benefits of the grant? Please provide a timeline that shows when and how you expect the grant to have an impact.

Tell us how this grant will support your organization's goals and mission.
If you have any questions, just send us a note at 4good@articulate.com. And if you'd like to stay in the loop about any Articulate for Good news, please add your email address here. We'd love it if you helped spread the word about Articulate for Good by sharing this article with other nonprofits you're passionate about. Good luck!