At Articulate, we sell software, of course; but we're also committed to helping you be successful using it. We want to empower you to build the best courses you can. To that end, we offer all sorts of free resources:
One of my favorite community activities is the weekly challenge. Instead of yacking about learning theory and what e-learning should be, we present mini challenges that help you learn more about the tools and encourage you to play around with ideas that could help you build better e-learning courses.
But sometimes all of that community goodness just isn't enough. Many of us prefer to have the resources right at our fingertips, literally. In those cases, we tend to turn to books.
E-Learning Uncovered: Articulate Studio '13
Following on the heels of E-Learning Uncovered: Articulate Storyline, Diane Elkins and Desiree Pinder have released E-Learning Uncovered: Articulate Studio '13, a new book in their successful series.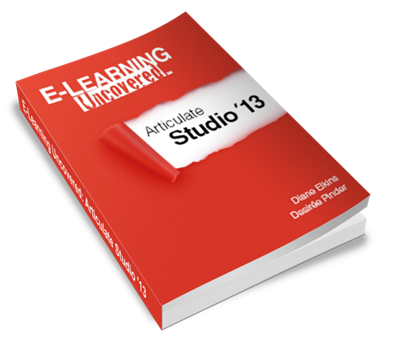 Like the rest of their books, it's filled with detailed and practical information that will take you through the basics on all four Studio '13 applications.
This book covers how to: use PowerPoint and Presenter '13, create quizzes in Quizmaker '13, build interactions in Engage '13, and record video presentations with the new Replay '13.
Five things I really like about the book include the:
Amazing details. You'll find practical step-by-step instructions for all of the features and common-use cases.
Design tips. They include lots of design ideas that are more than simple explanations of the features and will help you get more out of the software.
Time savers. Throughout the book you'll find time-saving tips and ideas.
A "Warning, Will Robinson!" approach. Best practices are developed over time and often the result of trial and error. The book does a good job pointing out some of the common issues when building courses so that you don't have to go through the trial and error yourself.
Insight from actual e-learning developers. It's one thing to write a book about e-learning, but it's quite another to actually build an e-learning course. Diane and Desiree build real courses with the tools they write about. That's a plus for anyone looking for practical help.
Win a free copy of the book:
The authors are giving away five free copies of the new book. To enter to win one, add a comment and tell us what you like about the Articulate community at the bottom of this post.
We'll do a drawing on April 30th and announce the winners in the following Weekly Recap.
Good luck!
---
Post written by Tom Kuhlmann