You just got Articulate Storyline and you're ready to build your first course. The first step is to watch the "Getting Started" videos. Those will give you a very good overview of what you can do with Storyline.
If you ever have any questions, check out the free e-learning tutorials or jump into the community forums and ask. You'll get help in no time at all. Also, be sure to take advantage of the free e-learning templates. They'll speed up the time required to build your interactive e-learning courses.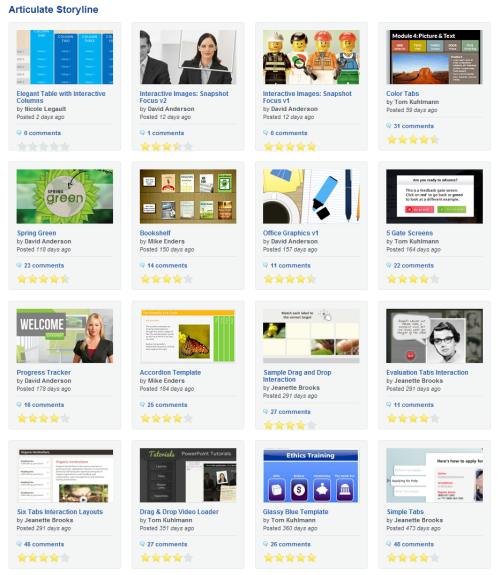 Even with all of these free resources available, many of us just like to have a quick reference book on hand. There are already some good e-learning books available. And today, there's one more: Learning Articulate Storyline.
Learning Articulate Storyline is by Stephanie Harnett. She's one of the e-learning community's superheroes which means she's not just some author who did research and wrote a book. She is a real Articulate Storyline expert!
Stephanie also put together some nice free tutorials that cover working with Storyline tools and PowerPoint tips, too.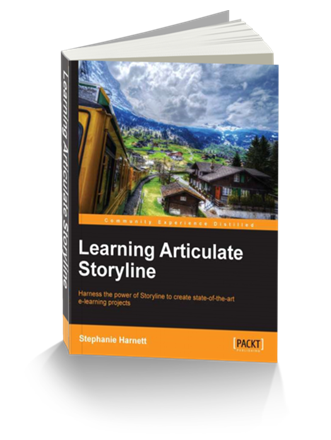 Five Things I Like
Here's why I recommend the book to anyone interested in learning more about Articulate Storyline:
Covers all of the basics. You'll get a really detailed picture of using Storyline, and how to build your courses. You learn about all of the core features and the authoring process.
Great e-learning resource. When you run into a feature you're not sure about, often it's just a lot faster to look it up in the book on your desk than it is to do a search online. This book is that type of resource.
Lots of little instructional design tips and tricks. The book reads like you're in an e-learning workshop. Not only will you learn to use Storyline, you'll also get little nuggets of information to help build better courses.
Follow-along practice exercises. Reading the book is one way to learn; applying what you read helps it stick. The book comes with a download link to access files and assets to practice doing some of what's shared in the various chapters.
Variables are included. One of the things I like about Storyline is that it's easy enough to learn if you're just getting started. Then, as you gain more experience, it grows with you. You may not work with variables right away, but you will once you are ready for more sophisticated course design.
If you're a Storyline user, then you might really enjoy this book, especially if you're just getting started.
As a bonus, I have five electronic versions of the book to giveaway. To be eligible, add a comment at the bottom of the post and I'll add your name to the raffle. Commenting for the free e-learning books closes on September 20. I'll notify the five winners via email.