This guest blog entry was written by Articulate VP of Community Tom Kuhlmann.
---
There's no getting around it: Annotations in Presenter '09 is a feature that sets our products apart from the rest. They not only look great, but when people see how easy they are to use, it always elicits a smile and "oohs and aahs." The reason is because when you start to use them, you realize that they'll make your work look more polished and they'll save you a boatload of time.
So let's talk annotations.
Annotations in Action
The best way to understand annotations is to see them in action. So here's a quick peek at annotations.
Click here to view the annotations demo
As you can see, the annotations look great. They're polished and look really professional. If that was all you'd get with the annotations, you'd be fine. However, the real value with annotations is in the improved workflow and time savings.
Annotations Save You Time
Almost 80% of the animations used in PowerPoint are built to highlight information on the slide. That's a lot of time-consuming production. As you know, working with animations in PowerPoint is not always easy. If you look at the image below, you can see how quickly having multiple objects with entry and exit animations can become quite complicated to manage:
If you have one or two animations, that's OK. However, once you start building a lot, it can get a little frustrating trying to manage the objects, work with layers, and synchronize the entry and exit animations. It gets even worse if you need to make edits to the animations.
Here's a demo I made that compares PowerPoint animations to annotations so that you can see the difference.
Click here the view the animation vs. annotation demo
The image below is of a slide with four simple animations. They're used to point out parts of the screen. If you notice on the right side of the image, I had to build entry AND exit points for the animated objects.
You'll also notice that all of the objects are on top of the slide content. What if you want to make handouts of your slides? You'd have to delete the animated objects first.
Now, here's that same slide with annotations. No objects. No animations to build. It's a lot easier to manage the slides. You add your annotations on the fly, while you record. If you want to make changes, just redo them. There's no fiddling with the animated objects and timing. It's also a lot cleaner.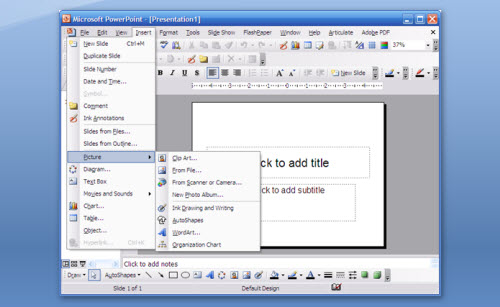 What's the bottom line?
Annotations look great. You'll be a lot more successful showing stuff on your slides.
Annotations are easy to use. Just check out this tutorial to see just how easy.
They'll save you a ton of time. The more time you save, the more time you have to surf the net.
So…you save time and your projects will look polished and professional. Now who wouldn't want that?