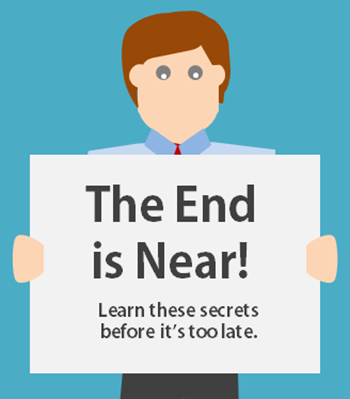 Many of you are transitioning from traditional classroom training to developing online training. That means you need to learn new software and production techniques, as well as new ways to design your courses.
This transition can be a bit confusing and a source of stress. So today I'll share a few of the tips I share at my workshops for new elearning developers.
It Takes Time to Be a Pro If You're a New Instructional Designer
It would be great if we could just start building online training courses and know everything the first time we build a course. But that's just not going to happen. It takes time. And that's OK. You have to start somewhere.
There are things you can do make sure you're moving in the right direction, but the first course you build is not going to be the best course you ever build. To tell you the truth, I cringe at some of my early stuff. At the time I thought it was great, but I look at it today and I can see that I was a bit limited in my understanding of how to build online training.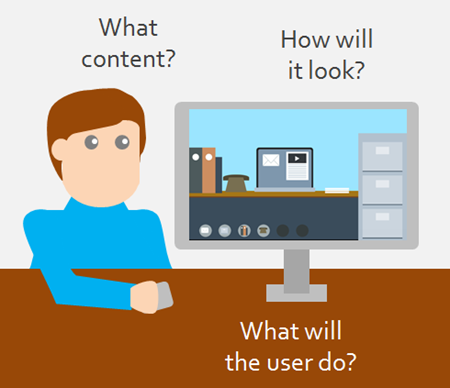 There are three essential elements to course design:
What content needs to be in the course to meet its objectives?
What will the course look like?
What is the user supposed to do with the content learned?
If you focus on those three, you'll invest your time in the right areas.
Practice, Practice, Practice Helps the New Instructional Designer
I've mentioned this before on the blog, if you want to be good at your craft it takes practice. There's no way around it. The challenge is getting enough practice so that when you design an elearning course you're ready.
My son just started soccer. I told him that if he waits to be with his team, he'll get limited touches on the ball. In a game or scrimmage he may only get the ball in 3-6 second chunks. At that rate, he'll improve slowly. However, if he practices ball handling skills in the backyard, he'll get hundreds of touches.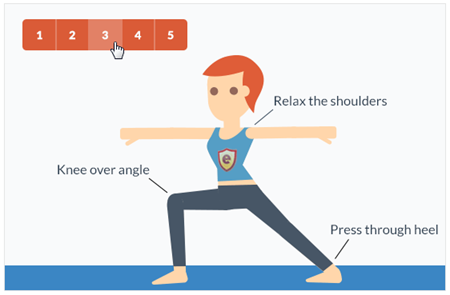 Think of elearning practice the same way. On a real course, you get limited chances. So you have to break down the elements of course design into small chunks and then take the time practice those.
I like the elearning challenges that happen in the community each week. They're designed to be small activities that are easy enough to do without a big time commitment. If you do them you'll get more "touches" and when it comes time to build a real course you'll have fleshed out some ideas and learned new production techniques.
There are Twenty Ways to Do Things If You're a New Instructional Designer
One point of frustration I see with people who are just learning is that we want to know how to do everything right and we want to be really efficient doing it. Guess what? It won't happen if you're just getting started. If that stresses you out, "here's a little song I wrote, you might want to sing it note for note…"
A point I make in the workshop is to not worry about what everything looks like under the hood. If the course works the way you intend it to and the end user is fine, then don't worry about what it looks like in the source file?
Who cares if you aren't the most efficient developer? The efficiency comes with experience, especially when you have to edit that mess of a file. But that's OK because that's how we learn. Often the expert shortcuts and efficient tips don't make sense until we have some context anyway. So why stress it?
A great way to learn faster is to jump into the community and ask for help. When you show someone what you're doing, you'll get others with more experienced who will offer the tips and tricks that will make you more efficient. If you're just getting started then being part of the community is a must.
Here's the deal, we all have to start somewhere. Sometimes the process of getting started can be a bit frustrating. Understand that it'll take time, create opportunities to practice, and don't worry about being perfect. The more you do this stuff, the better you'll become.
What tips do you have for the person just getting started?
Events
May 21-24 (San Diego): ATD ICE. Come visit the booth.
June 1 (Johannesburg): 2023 Learning Indaba Conference. Delivering a keynote presentation and afternoon e-learning workshop. You can also sign up to attend the conference sessions virtually. Register here.
June 2 (Johannesburg): Articulate User Roadshow. Connect with other users and learn all sorts of tips & tricks. Learn more here.
June 6 (Cape Town): Articulate User Roadshow. Connect with other users and learn all sorts of tips & tricks. Learn more here.
Everyday. Check out the weekly training webinars to learn more about Rise, Storyline, and instructional design.
Free E-Learning Resources