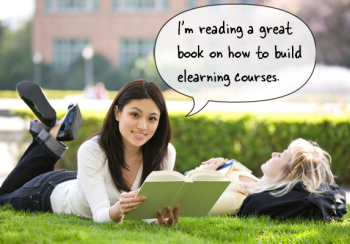 September is the start of a new school year. So it's a good time to revisit the ongoing debate about whether or not you need an instructional design degree to build good elearning courses.
Here's my take.
There's a difference between teaching and informing.
Because we're using e-learning applications like Storyline 360 or Rise 360 the assumption is that what we're building is always e-learning or the objective is some sort of performance improvement.
Instructional design implies instruction. But much of what's created with the e-learning applications is less about learning and more about sharing information. It's really more interactive multimedia content than it is interactive instructional design.
Perhaps, the question should be, "Do you need a marketing degree?" since a lot of what is created falls more into that bucket than performance improvement.
Not all course builders are instructional designers.
In an ideal world, the person building the course is also involved in the design of it. But I've been in the industry long enough to know that's often not the case. There are many course builders who have little say in the design of the course they build.
They're hired to take content as it is designed by someone else and then build out the multimedia part of it. Having instructional design awareness is great and allows that person to offer constructive feedback, but if that's not what the person is hired to do, then there's a good chance the feedback goes nowhere.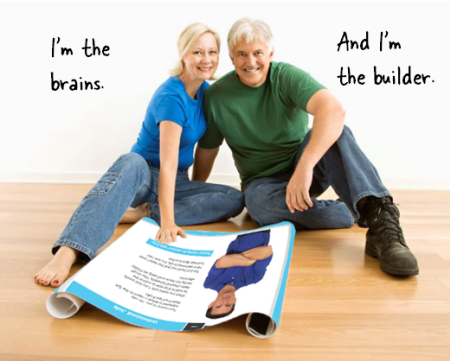 If you're hired to build courses, but not involved in the strategic design of them, then it may make sense to focus on multimedia design skills over instructional design. From my experience, a course developer with really good graphic and interaction design skills usually trumps a good instructional designer with limited visual design skills and multimedia experience.
College degrees may not build the skills you need in the real world.
There are lots of resources online and informal learning communities to help you learn more about instructional design. It doesn't require a degree.
I have a master's in educational technology, a degree in corporate media production, and a degree in organizational management that focused a lot on performance and training. Despite all of that education, most of what I know about e-learning came from the work world.
Quite a bit of what was covered in my academic education was not very relevant to the work I was doing and offered little practical application. On top of that many of my professors had limited experience in non-academic training environments and were so politically charged about education and learning that it made a lot of the academic experience a bit uncomfortable and completely incoherent to my needs in the corporate environment.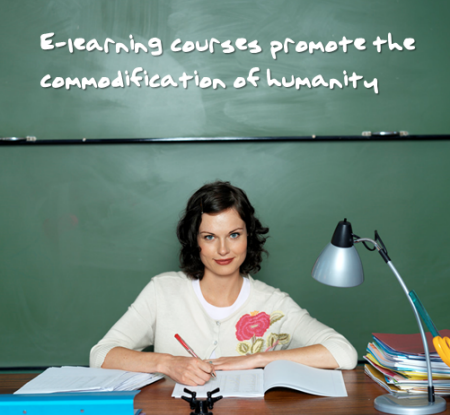 Learning about instructional design doesn't necessarily require a formal program as much as the desire to learn and then apply what you learn to your course design.
An instructional design degree can help you get a job.
E-learning is hot and a great industry to be in. That hasn't always been the case for training. In fact, when times are tough, it's usually the training team that gets the boot. But for right now, e-learning is a growing industry with lots of opportunities.
I took a quick peek at 20 job listings, here's what I found. All but one required at least a bachelor's degree. Most preferred a Master's. And many required a Master's.
Is that fair? Probably not.
If I was the hiring manager I'd prefer looking at your portfolio and talking to you about how you design courses. However, in many cases the hiring manager isn't involved in the initial screening of the job applicant. That's done by an HR assistant who is using the minimum requirements to weed out applicants.
So you may be the most skilled instructional designer, but without a degree you probably won't make it past the first round.
An instructional design degree can challenge your thinking.
Here's where I find the most value in pursuing an instructional design degree. It forces you to look at and do things in a different way. It also helps build relationships and a network of peers that has lifelong value.
We tend to get stuck doing the same things the same way. In fact, many of you may have the experience of building courses, but you've basically built the same course a hundred times rather than a hundred different courses.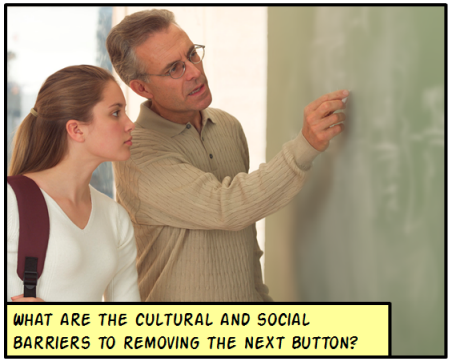 In a degree program, you get experiences and opportunities that may not exist at work where you have to operate at the speed of business. You learn new things and hopefully get to apply them to projects to see how they work.
You also get to interact with people who are in different fields, with different organizations, and who many not think the way you do. Being challenged in this way is good.
From a purely pragmatic perspective, you don't need an instructional design degree to build e-learning courses. But a formal education does provide a map towards success. Most of us aren't disciplined enough to map out the same things and experiences we'd acquire in school.
But Tom, do I need an instructional design degree to build e-learning courses?
I'm going to say "No, you don't need a degree."
I've talked to plenty of people who told me what they learned in school wasn't relevant to what they have to do at work. And with the resources available to you, there's no reason why you need to pay a ton of money to get a piece of paper to confirm the skills you already have.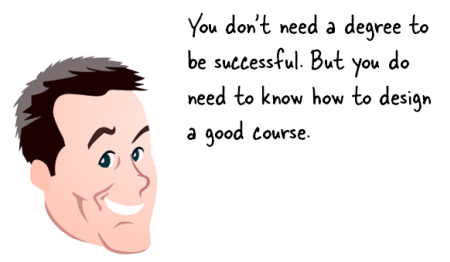 But you do need to know how to build good instruction and that means if you don't learn it via a formal degree program you'll need to learn it elsewhere.
My advice is to keep reading about course design and practice building instructionally sound modules. Build good examples to add to your portfolio and stay connected to the e-learning community. That practical experience coupled with knowing someone can help you get past the HR filter when openings arise.
And if you can afford it, go to school because you're at a competitive disadvantage when looking for work.
What do you think?
Do you need an instructional design degree? For those of you who don't have a degree, what advice do you have for someone who wants to learn more?
And if you do have a degree, did it help you build good e-learning courses? Is it something you'd recommend to others?
I look forward to your comments.
Events
Free E-Learning Resources
82 responses to "Do You Really Need An Instructional Design Degree?"