Years ago I was taught that all courses had to have a bullet point objectives screen. In fact it was mandatory in most of my early projects. And I know from talking to many of you, that's still the case in your own organizations.
In fact, in a recent workshop when I addressed this as an issue, someone quoted Robert Gagné's second step of his nine steps of instruction: "Tell the learners the learning objective." Her organization interpreted step two as literally detailing the objectives by listing them as a series of bullet points.
While there's value in having a list that clearly describes learning objectives, often it's a precursor to cookie cutter courses that are not very engaging or meaningful. But is there a way present the learning objectives that doesn't require a bullet point list?
Essentially the goal is to have the learner understand the purpose of the course, why they're taking it, and what they'll learn. Bullet lists are an easy way to detail those things and probably work best for real simple courses. But my guess is that most people just click past the list to get to the course. What can you do to get them to understand the objectives and engage them at the same time?
Create Learning Objectives That Challenges the Learner
Challenge them upfront. The challenge could be some sort of assessment to gain understanding of their current skill level. But most important about the challenge is that it exposes what they don't know. And this exposition lays the foundations for clarifying the objectives.
Here's a video that's been making its way around the internet. If you haven't seen it, give it a look. It's interactive and requires your full attention. As a warning, it's in French. That's not the bad part. Really. The English captions do drop the F bomb, so be warned. [Update: Unfortunately it seems the interaction has been removed].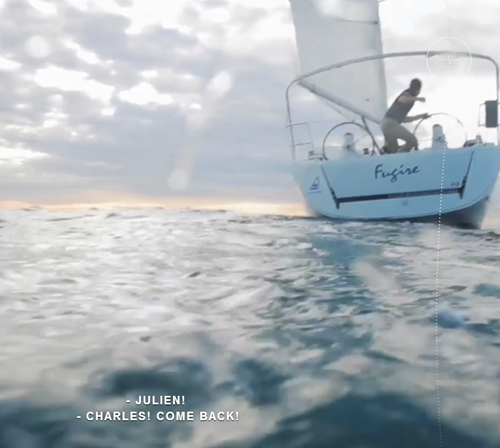 Imagine this was the beginning of an elearning course about water safety. Instead of creating a list of bullet points, a video like this offers an engaging and compelling reason to wear a life vest. The additional challenge of staying afloat also amplifies the point of getting tired quickly. After watching this you'd no doubt understand the purpose of the course.
Add Meaningful Emotional Impact to Your Learning Objectives
In a previous post on how to create interesting learning objectives I created a demo to show how I reworked an objectives screen for an emergency preparedness kit. My dilemma was that often we treat courses like this as a checklist item. We may get information but we don't connect the information to us personally.
"Safety training…blah blah blah…emergency kit….blah blah blah…pass quiz, go back to work."
In this particular case, instead of listing the objectives, I state some facts about survival during a disaster and tied it back to some family photos to imply a connection to your loved ones.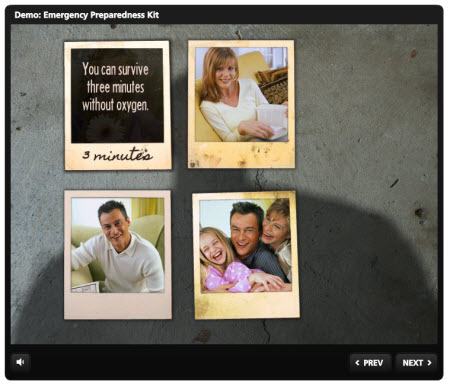 Click here to view the elearning demo.
It's still linear information, but it's reframed to be more engaging and emotional. Plus since it's not a bullet point list, it's also probably novel. And novelty is a great way to pique a person's interest.
Bullet point screens have their place. They are easy and are less open to interpretation than something like a dramatic video. However, they don't need to be the defacto for the way you inform the learner of the course's learning objectives.
In your next course, see what you can do to dump the bullet point list. How can you challenge the learner's understanding or add some drama at the beginning of the course?
What are some things you've done to engage your learners and get away from the bullet point objectives list?
Events
Free E-Learning Resources
15 responses to "Dump That Bullet Point List & Build Learning Objectives That Matter"