When we're new and just getting started with elearning, we need templates and project plans to guide us.  On the other hand, experienced developers rely less on those resources because they have more experience and a deeper understanding of what it takes to create an elearning course.
Think of it like driving around town. When I first moved to town, I needed a map.  But today, I don't use a map.  In fact, even when I look for streets with which I'm unfamiliar, I can avoid using a map because I have a big picture understanding of the town's layout and crossroads.
On top of that, if I run into a road block, I can quickly make adjustments to my route.  However, if I was following a print out with directions, once I hit a roadblock, I'd be stuck.  And as my wife would say, I'd be stuck there a long time reluctant to ask for directions. 🙂
Templates are fine, but they're based on practiced routines rather than solving problems.  This is OK when getting started, but practiced routines can be constricting because the focus is on conforming to the routine rather than solving the problem.
We see that a lot of this in our industry that relies so heavily on templates, ADDIE project plans, style guides, and stringent branding requirements.  Reliance on these rigid guidelines doesn't always fit the needs of the elearning project and in many cases leads to inferior course design.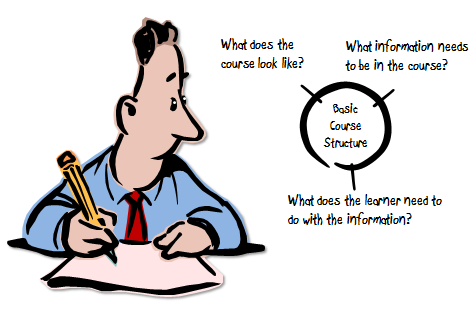 Today, instead of offering a project plan or template for elearning, I thought I'd offer a basic project structure for a course.  Think of it like a big picture project plan.  To keep it simple, let's break the course structure into three main chunks.
Visual design: determine the look and feel of the course
Information design: determine what content belongs in the course
Activity design: how the learner applies or interacts with the course content
Visual Design: How Will The Course Look?
The two images below come from a recent CrunchGear article.  Don't worry about what the products do or the merits of one product over another.  If you only had five minutes to play with one device, which one would it be?
If you're like me, you'd choose the one on the left.  It's colorful and inviting.  I want to pick it up and start playing with it.  The other one just doesn't look as inviting.  Think about your course design.  Is it inviting from the start?
Design matters.  It conveys to the learner that what they're doing is important and worth their time. Consider yourself a set designer for a Broadway play.  You are given a limited amount of space, and in it you need to create an immersive experience.  Your goal is pull the learner into the course first by capturing their attention and then by creating a learning environment that is both relevant to the content and engaging to the senses.   I like this quote about set design:
"The scenographer visually liberates the text and the story behind it, by creating a world in which the eyes see what the ears do not hear."
This doesn't have to be complicated.  We're not all professional graphic artists.  But there is room for us to place more emphasis on the visual design of our elearning courses.
Below are before and after examples both created in PowerPoint.  The first example is typical of what you might see in a rapid elearning course.  The second version is the same content.  The design is more interesting and relevant to content.  In addition, instead of a sterile white slide, it's more like walking into the forest to learn more.
Information Design: What Do People Need to Know?
A great looking course is only one part of the process.  You need to have great content to go with it.  Assembling the content rests on a few core areas:
Clear objectives: understanding desired results and how to get there
Appropriate content: information that supports the learning objectives
Relevance: information is meaningful and relevant to the learner
There are all sorts of models and ways to collect the information you need for a course.  Your course content is determined by your objectives.  To determine your objectives, you look at your current results and compare them to where you need to be.  The comparison should identify a gap.  This helps keep your objectives performance-based and is the basis for how you measure success.
Once you know where you need to be, you determine why you're not getting there.  What does the learner need to do that's different than what they do today?  This information helps you gather the right content for the course and build the right type of course.
Activity: How Will Learners Apply the Information?
The tendency in elearning is to design courses focused on information.  These tend to be the dreaded click-and-read courses, where the learner just clicks a next button to advance.  Ideally, the course is less about the information and more about how the learner uses the information.  This keeps the course meaningful and relevant.
This doesn't mean that the course needs to have all of the bells and whistles.  Instead, the focus is on getting the learner to use the course content which can happen in all sorts of ways.
Ways to Apply Information
Case studies & scenarios: Present some problem solving exercises and activities.  You can make these as simple or complex as you like. The main point is to give the learner a way to use the information and get feedback.
Blended approach: Mix elearning with real-world activities where they get the core information online and then it's integrated in some team or class discussions and exercises.  I designed a courses once where we emailed case studies for a manager to review with his new hires after they went through the basic elearning course.
Social media: There are all sorts of ways to make social media part of the elearning process.  Have the learners work through exercises via a wiki or discussion forum.  You could challenge each learner to present one new thing learned and how it can be applied on the job.
This is a basic overview of designing an elearning course.  The three areas are not exclusive.  They go hand-in-hand; and together they make a complete course.  When you build your next course, ask:
Is the course inviting? Does the look and feel of the course support the content?
What information does the learner need?
What do I expect them to do with that information? Can they do it in the course?
If you keep this simple framework in mind, you'll be on the road to creating effective and engaging elearning courses.  What other tips would you offer to someone just getting started?  How about good book ideas? Click on the comments link to share your thoughts.
Events
May 21-24 (San Diego): ATD ICE. Come visit the booth.
June 1 (Johannesburg): 2023 Learning Indaba Conference. Delivering a keynote presentation and afternoon e-learning workshop. You can also sign up to attend the conference sessions virtually. Register here.
June 2 (Johannesburg): Articulate User Roadshow. Connect with other users and learn all sorts of tips & tricks. Learn more here.
June 6 (Cape Town): Articulate User Roadshow. Connect with other users and learn all sorts of tips & tricks. Learn more here.
Everyday. Check out the weekly training webinars to learn more about Rise, Storyline, and instructional design.
Free E-Learning Resources
73 responses to "A Roadmap for Building an E-Learning Course"