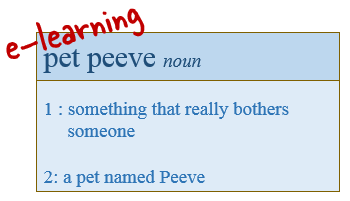 Recently there was a great discussion in the elearning community on pet peeves. As you review them, I'm sure you'll be able to relate to quite a few. Here are a few that stood out to me: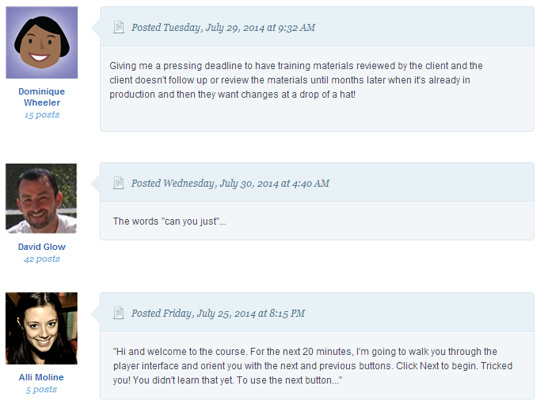 My E-Learning Pet Peeve
There are a lot of things I'd like to improve with elearning but one of those things that bugs me most is when the client wants to lock the course navigation. And then when I ask why, it's because they want to make sure that the person is getting all of the information.
I addressed this issue in a previous post. Locking online courses so that the learner "gets the information" is ridiculous. The only thing they're getting is a headache and repetitive stress disorders as they rapidly click on the next button. Of course the case could be made that adding a slow narrator to the locked course helps slow down the rapidly clicking and in turn decreasing repetitive stress injuries.
The only way you know they GET the information is by having them show you how they use it. I prefer some sort of contextual activity where they apply what they're learning to demonstrate their understanding of what they know.
Of course, some clients will still want to lock the course. That's OK. Lock it at the decision points and not through the navigation controls.
So that's my elearning pet peeve. What's yours? Share it here.
Events
Free E-Learning Resources
27 responses to "Here's My E-Learning Pet Peeve. What's Yours?"