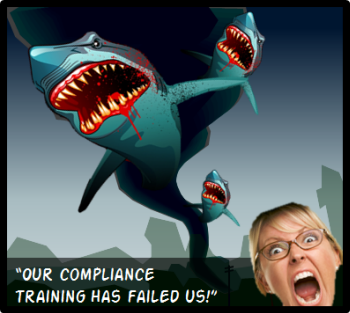 One of the easiest things you can do to make your course look good is to find a great background. The background is the largest single graphic in your course and can set the tone for what you do.
Here are a few posts that will help you understand the importance of how the background image impacts your course design: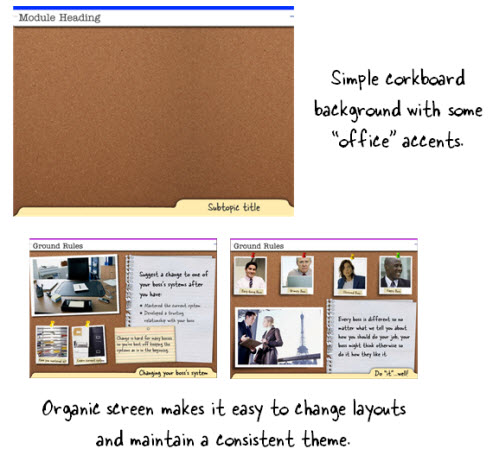 It's good to be intentional about the background graphic that is used. But that doesn't mean you need to be a professional graphics designer. In the image above, the essence of the course was "corporate office."
To get the right look, David used a corkboard and some "office embellishments" like the folder tabs and labels. From there he had the option to place other content on the board. Pretty simple, huh?
Of course, sometimes you need a good starting point. So here's a list of the free backgrounds available in the elearning community. You're free to use them for your online training as you wish.
Free Blurred Background Graphics
Blurred backgrounds are great. They provide some texture and depth, but don't conflict with the other visual content. In fact I used one of the blurred backgrounds in the demo I built below.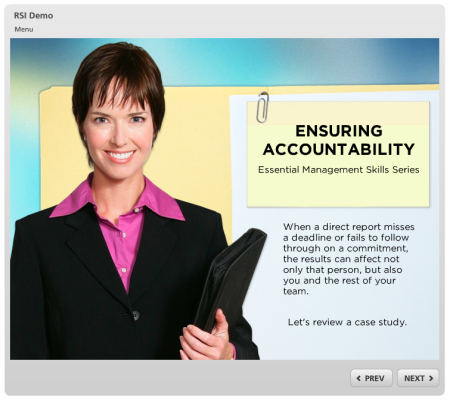 Click here to view the elearning example.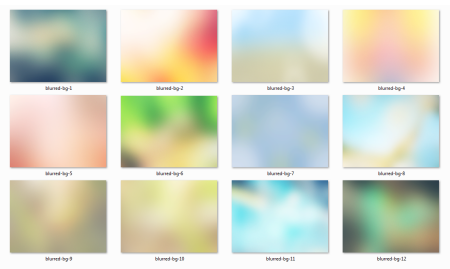 Free Textured Background Images
Sometimes a solid colored background is fine. In fact, the flat look is pretty popular today. That is until some designer gets bored and then tells you how lame flat is.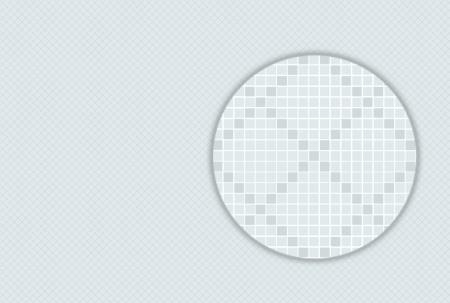 In either case, if you go with a solid color you may find the starting color looks too harsh. This is where softening the color makes sense. That is until some designer tells you softened colors are lame. If you don't care what the designer says, here are three ways to soften the colors of your flat background design.
Free Background Images that Add Depth to Your E-Learning Slides
In an earlier post I shared some tips on how to create slides for your online training courses that have some depth.  It's the "wall, baseboard, and floor (WBF)" technique, or as one of the blog readers said, "Why be flat?"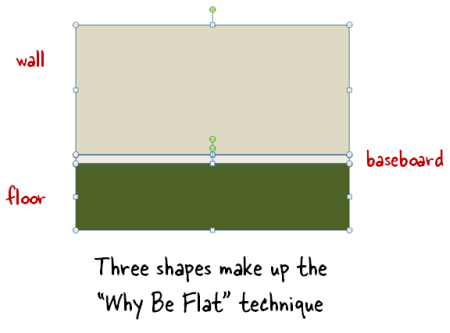 This is a simple way to change the most boring elearning course into one you'd print on a shirt and wear to the Mardi Gras. All joking aside, it is a great way to quickly change the look of the course and make it a bit more visually interesting. If you don't have time to practice making your own, take advantage of the ones included below.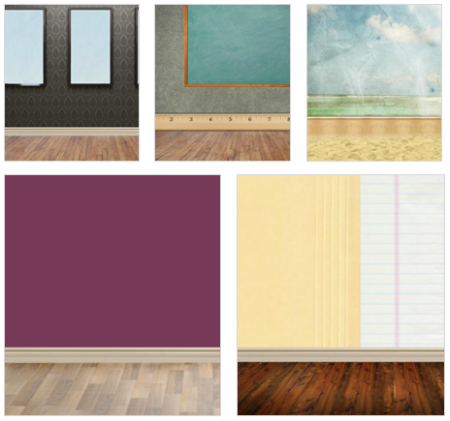 5 Free Backgrounds to Use with Characters & Interactive Scenarios
With photographic characters it's easy to get backgrounds because all you need is a photo. With vector characters it's not that easy. That's where these handy backgrounds really help.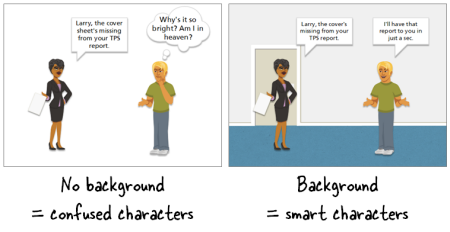 You can go from confused characters to ones that are engaged and excited in just a few clicks. There are five office backgrounds to start.
Of course, you can use the "Why Be Flat" technique to create your own. And you're not limited to the backgrounds listed above. All of those display graphics in the download section can also be used to help build your online training.

In an ideal world, you have the graphics design resources to build a custom look for each course. But we know that's not always possible. That's where having the right background really comes in handy.
And if you're just getting started or need something real quick, these backgrounds should help.
We'll be adding some more soon, so be sure to bookmark the free downloads section so you can take advantage of all of the free assets for building your elearning courses.
Events
May 21-24 (San Diego): ATD ICE. Come visit the booth.
June 1 (Johannesburg): 2023 Learning Indaba Conference. Delivering a keynote presentation and afternoon e-learning workshop. You can also sign up to attend the conference sessions virtually. Register here.
June 2 (Johannesburg): Articulate User Roadshow. Connect with other users and learn all sorts of tips & tricks. Learn more here.
June 6 (Cape Town): Articulate User Roadshow. Connect with other users and learn all sorts of tips & tricks. Learn more here.
Everyday. Check out the weekly training webinars to learn more about Rise, Storyline, and instructional design.
Free E-Learning Resources
9 responses to "Free Backgrounds to Use with Your Online Training Program"