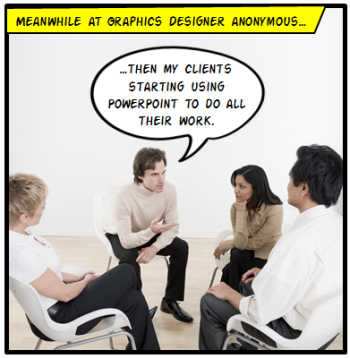 Many of the blog's readers are forced to work with limited resources especially when it comes to building the assets for their elearning courses. As many of you have discovered, when working with limited resources we have to MacGyver much of our production.
In a recent post on how to create templates for online training, I used the image below. While the image is simple, it is a combination of three graphics and all of the editing was done in PowerPoint.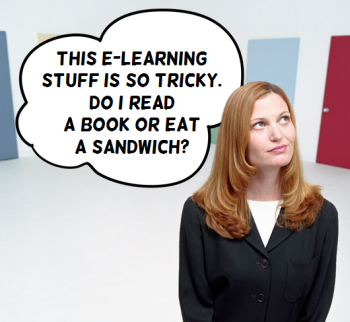 Today I'll show you how to use PowerPoint to modify your stock images.
Free Stock Images from Microsoft Office
Microsoft Online has all sorts of great stock images. In fact, many of the for-pay services provide images through the Microsoft site. They're not the high-quality choices you'd find on their own sites. But I've found that for most of the elearning courses I design, the free images work fine.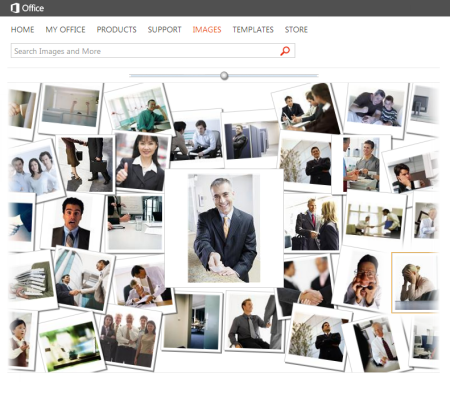 Of course you can use any image for the tips I am going to show below, but if you're using PowerPoint and you have limited resources, then taking advantage of the free resources that Microsoft provides is a no-brainer.
How to Modify Free Stock Images
In the example below, I have an image of a woman thinking. I wanted to add a thought bubble to the image. But to add a bit more depth, I wanted the thought bubble to be slightly behind the woman.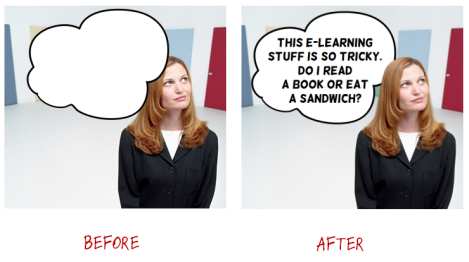 Here's how I created the image using PowerPoint:
The final image is layered. I duplicated the woman thinking image. One sits on top and one on the bottom. In between the two images is the thought cloud graphic.
To get the thought cloud behind the woman's head requires that we remove the background of the top woman image. Use PowerPoint's remove background feature to isolate the woman. Don't worry about it being perfect. There's a duplicate image on the bottom that will hide the imperfections.
Add the thought bubble and text. And then place the thought bubble behind the top image and above the bottom image.
Tutorial: Use PowerPoint for Basic Graphic Design
Here's a tutorial that walks through the steps that I outlined above.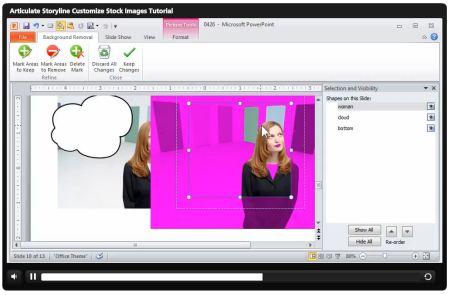 Click here to view the tutorial.
As you can see, PowerPoint's valuable for more than presentations and rapid elearning courses. It's a great tool to meet some of your basic graphic design needs, too.
How are you using PowerPoint to create your own images? Share your thoughts here.
Events
Free E-Learning Resources
15 responses to "How to Use PowerPoint to Create Custom Stock Images"