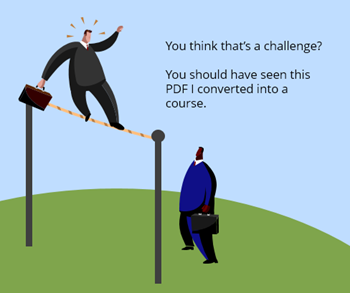 I love the weekly elearning challenges. They get us to do things we may not often do on our own. We get to practice new techniques and think through different ideas. We also get to see how others approach the same challenge. I always find those a great source of inspiration.
Instructional Design E-Learning Challenge
Sometimes the elearning challenges poke a bit at what we do and not at how we build courses. For example, a recent challenge asked us to describe what elearning designers really do. You can see the recap in this post (scroll down a little). There are some clever descriptions.
Another elearning challenge asked people to share their experiences and thoughts on elearning via a simple podcast.
This Week's E-Learning Challenge
This week's elearning challenge asks us to list 10 Things Instructional Designers Don't Like to Hear.
Already, Tricia Ransom added her ten things in a blog post. Jason Morris created an infographic. And both Nicola Redfearn and Jackie Van Nice created funny little multimedia modules.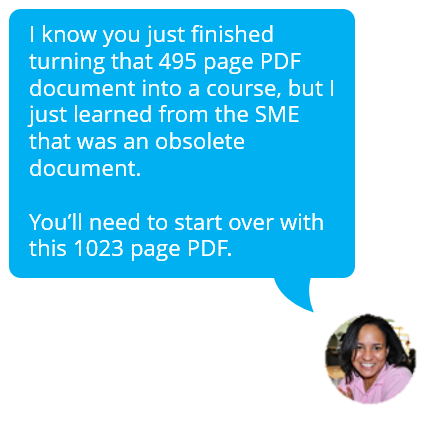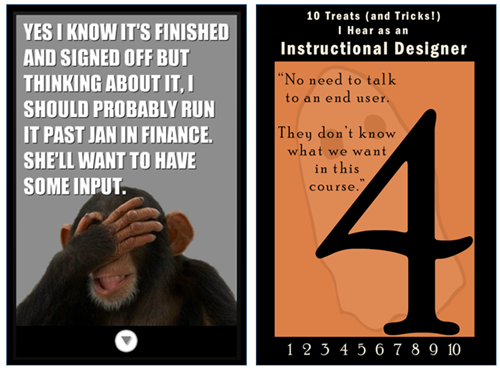 Are you ready to take up the elearning challenge? What are the ten things you don't like to hear? Jump into the community and share your thoughts.
Tom's note:
Last week I noticed that all of the blog emails weren't delivered. If you haven't seen it yet, check out the blog post on how to volunteer to help NGOs and non-profit organizations build their courses.
Events
Free E-Learning Resources
6 responses to "What Instructional Designers Don't Want to Hear"