Earlier today, I got an email about a baby moose that was born in someone's front yard. As I looked over the email, I noticed that the ads on the side were pushing baby showers and buying cute baby outfits.
By design these ads create relevant links based on the text of the email. In this case the links were not relevant and completely out of the context of the email I was reading. I don't need cute baby outfits. So I just ignored the ads. That's what happens when you just create ads oblivious to the needs of a real person.
There's a lesson in here for those of us who design e-learning. Want your learners to learn? Then create relevant content. If not they'll ignore what they see in the course. It all goes back to a point I was making in the last post about understanding the learner's needs. To have the most impact, the course needs to be relevant to the learner. 
Don't get caught trying to sell baby gifts to someone reading about a moose.
Three Ways to Make Your E-Learning Content Relevant
1. Spend time with the learners in their environment.
A while back, I worked on a course for machine operators in a production environment. Much of the job was loading and unloading a high-speed machine. After spending a few days on the floor talking to the machine operators, I found that the machine intimidated many of the new users. It was extremely large, fast, and noisy. On top of that, the new users were continually reminded of how expensive it was and to not mess up anything. This affected their performance.
I learned a lot talking to and observing the machine operators. Because of the time spent with them, we built the core part of the training around preventive maintenance on the machine. Before they learned to operate the machine, they learned to take it apart, clean it, and put it back together. By the time they started working on the machine, they were no longer intimidated. As a result we ended up cutting a 90-day training process down to less than 2 weeks.
2. Be a bridge between the content owner and the learner.
Typically, courses are built around the needs of the organization or content owner. Many times this happens oblivious to the learner's needs. Part of your role is to blend the organization's needs with the learner's needs.
It's important to get the learners involved in the development and design of the user training. Learners are able to build a context for the information. New learners are especially valuable because they can share recent experiences and insights while they are still fresh.
3. Put the content in context.
In face-to-face sessions, you can get a lot of mileage when you step away from a lecture format and allow people to work through scenario-based challenges. It keeps the information meaningful and the learners are motivated to learn.
You can do something similar with e-learning. Page after page of content is equal to an online lecture. Change things up. Create branched scenarios and real-world interactions where the learner gets to practice using the information in a way that is relevant to the real-world environment.
You don't want your learners to tune out and discount the important courses that you build. If you get them involved and keep the content relevant, you'll have engaged learners.
What are some things you do to keep your elearning courses relevant?
By the way, here's that moose. Although, I opted not to throw a baby shower or buy it a new outfit.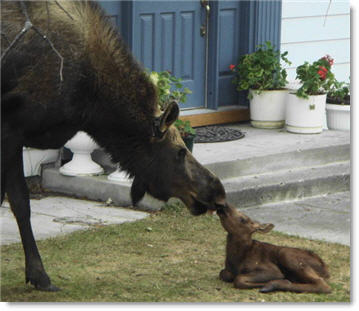 Events
May 21-24 (San Diego): ATD ICE. Come visit the booth.
June 1 (Johannesburg): 2023 Learning Indaba Conference. Delivering a keynote presentation and afternoon e-learning workshop. You can also sign up to attend the conference sessions virtually. Register here.
June 2 (Johannesburg): Articulate User Roadshow. Connect with other users and learn all sorts of tips & tricks. Learn more here.
June 6 (Cape Town): Articulate User Roadshow. Connect with other users and learn all sorts of tips & tricks. Learn more here.
Everyday. Check out the weekly training webinars to learn more about Rise, Storyline, and instructional design.
Free E-Learning Resources
14 responses to "Instead of Relevant Content, Maybe All Your Learner Needs Is a Baby Shower"