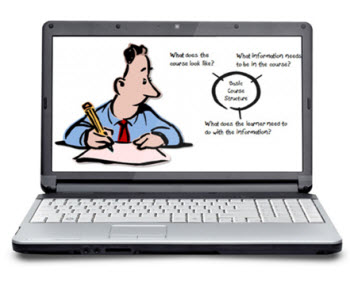 There are three core questions that help guide the development of an elearning course.  I discussed this a bit in the post on building a roadmap for elearning.
What is the look and feel of the course?
What information needs to be in the course?
What will the learner do with the information?
For many rapid elearning developers the most challenging part is the first question because it requires a skill set different than training or instructional design.  So what typically happens is that we create elearning courses that either all look the same or have a discordant look where the images and typography are a hodgepodge of whatever we have available.
In today's post I'll share a simple way to get a nice look for your course that will give it a rich feel.  It's not a substitute for good instructional design, but it is a simple way to make your course look good and take the pressure off of the rapid elearning developer who has limited access to graphic designers.
In a recent post I shared some ideas on how to craft more engaging objectives.  For the demo, I wanted my earthquake intro to feature a family huddled in the dark.  And as the information was shared a family member would disappear.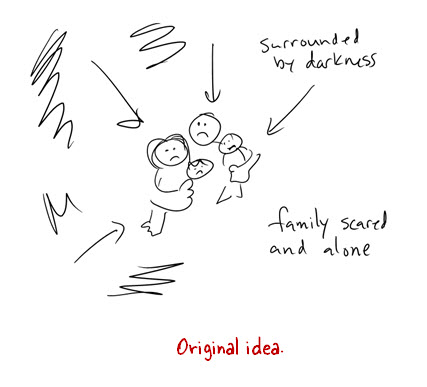 Like most of you, I am pressed for time.  Since I had no time to build the graphics I wanted, I decided to change the huddled family image to a framed photo of a family.  This would be a lot easier to do since all I needed was an image of a picture frame and a family.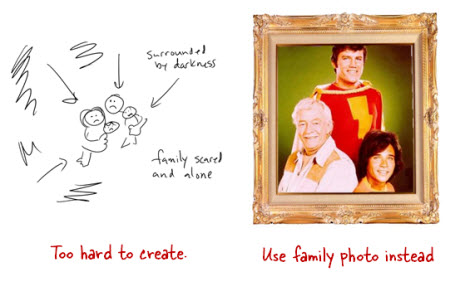 As I was looking for picture frames on iStockphoto I saw a few Polaroid-like images.  So I decided to switch from a single picture frame to Polaroid photos of each family member.  Doing a search for "Polaroid" revealed a lot of cool layouts.  What I like about them is that they offer some structure that I could easily use in my elearning course.
Searching through the Polaroid images lead me to an artist who had a series of images that I could use.  The artist provided a background, title and section screens, and then various layout options.  The added bonus is that since they came from the same artist they all looked like they belonged together.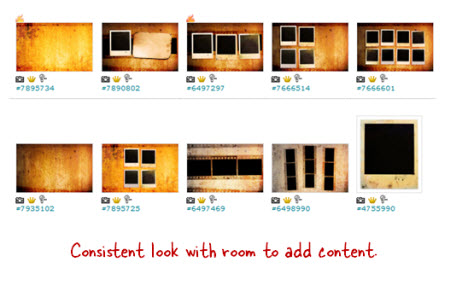 Here's a quick demo of these images used in an elearning course.  As you can see, I didn't have to do much work because I used the default layouts for my slide backgrounds.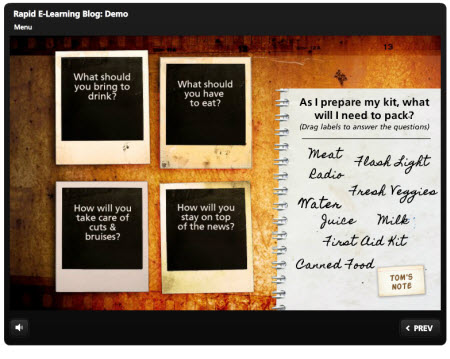 I look for images that come from the same style so I can get a consistent look and avoid a discordant style.  And then I look for "buckets" where I can add content.  In this case the Polaroid images are perfect.  I can use them to add pictures, as menu choices, or even as a way to display text that may have previously been a bullet point.
The secret is to find an artist who provides a lot of images that come from the same style.  This way you have a lot to work with.  Here are a few sets that I think would work well in an elearning course: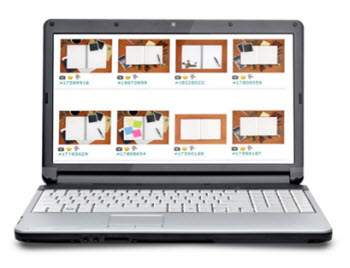 Desktop themes (same artist):
This isn't a replacement for good instructional design.  You'll still need to do that.  But for the elearning developer who has no graphic design background and wants to create a visually appealing course, it's an easy and simple solution.
Are there any similar styles in the stock image sites that you like?  Feel free to share them in the comments link.
Events
Free E-Learning Resources
34 responses to "Want a Great Looking E-Learning Course? Here's a Simple Way to Get It."