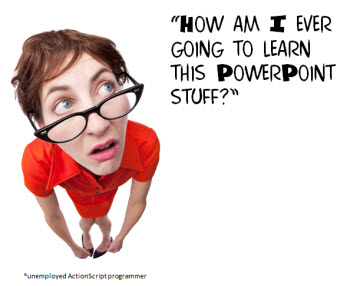 I've been doing this PowerPoint stuff for so long that I often think the tips I share are common knowledge and everyone knows them. But every time I do a workshop, I'm reminded that what may be old to me is often new to others.
Over the years I've shared all sorts of PowerPoint tips and tricks. But with the blog approaching 100,000 subscribers that means there's a lot of people who probably didn't see many of the previous PowerPoint posts.
So in today's post, I've included a list with every single PowerPoint tip shared in the blog up to this point. They include tips on creating custom graphics, assembly of interactive elearning, and getting more out PowerPoint's features.
If you're looking for a good resource on PowerPoint tips, this is a post worth bookmarking.
Tips on Creating Rapid E-Learning Courses in PowerPoint
Building an elearning course with PowerPoint is not the same as building a presentation. Many of the production techniques are different. This list of posts offers some good tips on building your rapid elearning courses in PowerPoint.
Use PowerPoint for Graphic & Visual Design
PowerPoint is a versatile application that lets you build your own graphics and illustrations. This list of posts walks through all sorts of graphic design and illustration tips.
Get More Out of PowerPoint Using These Tips
Most of us probably use a small fraction of PowerPoint's features. However, it is a very capable application. And onc
e you understand what you can do with it, it's like having a brand new tool. The following posts dig through various PowerPoint features so that you can build rapid elearning courses and get more out of PowerPoint's capabilities.
Never-ending PowerPoint Tips
The elearning community is active in sharing tips and tricks. Many in the community create how-to tutorials in Screenr. We try to capture all of the PowerPoint tutorials we find in the community.
This link is updated every time we bookmark a new PowerPoint tutorial.
So there you have it, a career's worth of PowerPoint tips and tricks. Of all of the PowerPoint tips I've shared, which is your favorite or is the most eye-opening? I'd love to know. Share it via the comments link.
Events
Free E-Learning Resources
14 responses to "Want to Become a Rapid E-Learning Pro? Then Check Out All of These PowerPoint Tips"