Tools like Articulate Presenter are great for creating elearning courses.  However, a lot of what you do depends less on the rapid elearning tool and more on your PowerPoint skills.  In fact, I get so many emails asking about how to do this or that in PowerPoint, I decided to do a quick series on some essential PowerPoint tips and tricks. 
So far we've looked at:
In today's post, I am going to show some time-saving tips to use when working with PowerPoint shapes.  You'll learn to apply various formatting features, make custom edits, and create the shapes you want.
Sizing Shapes
When you click on a shape, you get anchor points on the sides and in the corners.  You can click and drag these anchors to resize your objects. 
Scale object: If you want to resize the image or object (and not mess up the aspect ratio), then press SHIFT and drag from the corners.  You'll see that the shape resizes, but the aspect ratio stays the same.
Resize from all sides: Holding CTRL down and dragging the mouse, resizes the shape equally from the opposite side.  Go ahead, try it.
Perfect circle or square: If you want a perfect circle or square, select the oval/rectangle object, press SHIFT and then drag the object onto the screen.
Moving Shapes
You can move shapes on the screen with the mouse or keyboard. 
Maintain alignment: What if you want to keep the shape in the same alignment?  Click and drag the shape while pressing SHIFT.  This allows you to move the shape up/down or left/right aligned to its current position. 
Copy and align shapes: I use this feature a lot when I make quick duplicates of a shape.  I press CTRL + SHIFT and drag the shape to make a copy that is already aligned to the current shape. 
Nudge objects: Instead of using your mouse, use the arrow keys.  Select your shape and then press the arrow key.  However, if you want to just nudge the shape a little, press CTRL and then the arrow.  To get more precise, zoom in and do your nudging.
Format Painter
There are a number of formatting options in PowerPoint.  For example, you can change the fill color, line color, and line style.  I won't cover those because they're fairly straightforward.  However, what I will cover is the format painter.
The format painter is a handy tool because it allows you to copy the formatting of one object and apply it to another.  This will save a lot of time because you can create just the right formatting for one object and with a few clicks apply it to all of the others.
Filling Shapes
When filling shapes you have a number of options.  You can fill with color, a texture, pattern, or picture.  In addition to filling the shape, you can change its level of transparency.  Today, I want to focus on two fill elements.
Use gradient fills to create depth and visual interest.  Instead of sticking with a solid color, use a gradient fill.  This can add depth to your screen which creates more visual interest.
The image above is from a tutorial I did earlier this year.  I used a gradient fill on the brown background.  It's a rectangle that goes from brown to white.  I also used a fill on the egg shape to give it some depth. 
Fill shapes with pictures.  Filling shapes with pictures opens up all sorts of possibilities.  Here are some before and after images.
Create Custom Shapes
PowerPoint gives you quite a few options when it comes to shapes.  Most of the time, those are plenty.  However, there are times when you want a certain type of shape and it's just not available.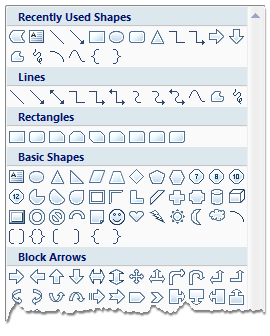 If you want a custom shape, you can draw one using the freeform tools.  Just click on the tool and then start drawing.
Another option is to use the edit points.  It works a little different in PowerPoint 2003 than it does in 2007.  However, the basics are generally the same.  Create a shape and then modify the edit points.  You can create straight or curved edges and make as many points as you need.  It takes a little practice, but you'll find that you'll never lack for shapes again.
Here's a simple example to show how you could use a custom-made object.  In this case, I wanted to add a simple curved border.  So I just converted a rectangle to a freeform object and edited the points. 
There are a lot of things you can do with the PowerPoint shapes.  The more you practice using some of these techniques the more creative you ca
n be.  In addition, you'll find that it speeds up your production time because you'll be able to quickly make edits right inside of PowerPoint.
If you have some tips and tricks feel free to share them in the comments section.
Events
Free E-Learning Resources
22 responses to "5 Easy Tips to Whip Your Slides Into Shape"