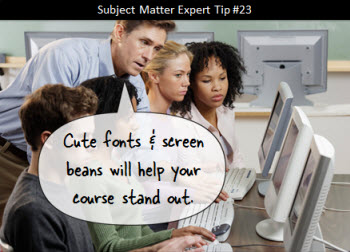 In a previous post we reviewed how to avoid the Frankencourse. These are courses that look like a bunch of modules that are cobbled together rather a single course. They're also courses where the design of the course is all over the place and inconsistent.
One way to avoid the Frankencourse is to come up with a consistent design that is used throughout the course. For example, title fonts are all the same and the colors used in the course are defined. When you use a box, it looks the same on all the screens and it is used the same way.
I was helping someone the other day clean up a PowerPoint-based elearning course. She got it from her subject matter expert and the file was a mess. The subject matter expert used all sorts of fonts and none of the boxes on the screen were consistent. One time the box had rounded corners and then next time it was straight. Some boxes were yellow with drop shadows. And then some were gray with no shadows.
This file demonstrated common issues with many PowerPoint slides:
Inconsistent use of design elements. The subject matter expert created boxes on the slides. None of them were designed the same way. There needs to be a reason why the boxes look different. Contrast is a design principle. When elements contrast with each other it implies that there's a difference between them. The same with repetition. When you repeat elements, then it implies similarity. None of this was a factor in the original slides.
None of the content was created using the slide master. That means that anything that needs to be changed has to be edited at the slide level. When you have 100+ slides that's a lot of repetitive editing. When you can, build your content formatting in the slide master. It comes in handy when you need to make universal changes.
However you design your elearning courses, it's important that your intentional about what goes on the screen and how those objects are used. This makes your course look more polished and it lets you leverage the advantages of good graphic design and visual communication.
In this post, we'll create a design slide that you can use to quickly apply design formats to the content on your slides.
Step 1: Determine Common Content
Determine what is common to most slides and then what those elements will look like. For example, slides usually have a title, body text, and then an assortment of common design elements like boxes, buttons, and callouts.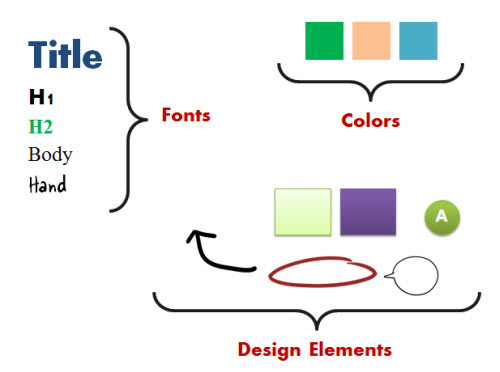 Step 2: Create a Design Slide
Once you know what common content you have, add them to a single slide. Then apply the appropriate format to each element.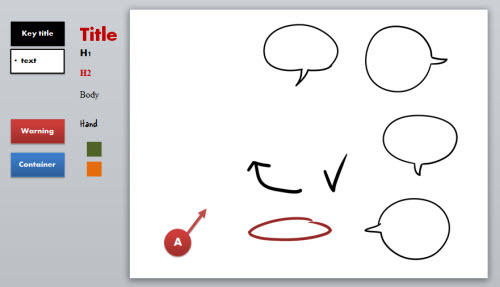 I call this my floating design slide. I move it along the course as I work on slides so I can quickly access a formatted object and paste it to the real slide when needed.
Step 3: Copy & Paste Formatted Objects
The design slide has all of the common elements you will use in your course. When you need to format something on your real slide, locate the formatted object on your design slide and then copy & paste it to the real slide.
Once it's pasted to the real slide, use the format painter to apply the design to the appropriate content.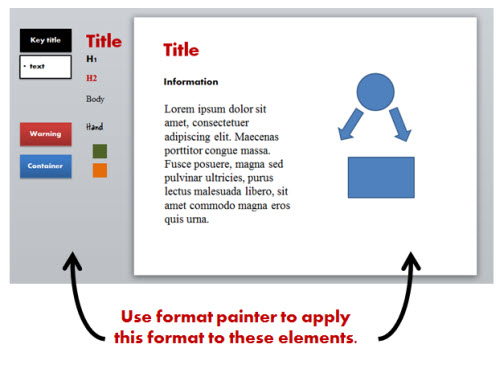 This is a simple technique. But it will help you quickly convert existing slides that may be a bit sloppy and inconsistent into something that looks better and is intentional in its design. The main point in all of this is that you're consistent in your design and in how you're using the elements in your course.
Events
Free E-Learning Resources
20 responses to "A Simple PowerPoint Technique to Make Your E-Learning Courses Look Good"