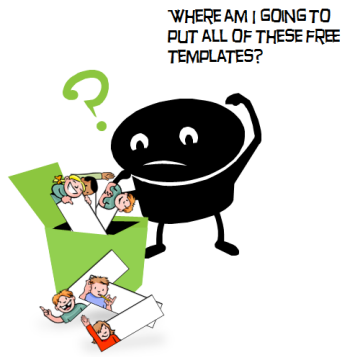 The past few weeks I've gotten a number of questions regarding some of the blog posts, free templates, and elearning in general. So here are some quick answers to your frequently asked questions with a few free graphics and free templates for you to use in your own elearning courses.
How to Get Free Images
Question: In one of the posts where you offer a few elearning tips you had some images with kids and text. I'd like to use those in a course. Where did you get them?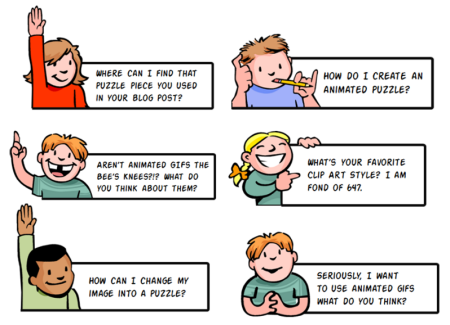 Those images are from clip art style 647. I downloaded the images and then created my own tags. Basically, I ungrouped the images, made some edits, and then added them to a rounded rectangle to create the tag.
Tutorial: Here's a tutorial to show you how to create the custom graphics for your elearning.
Free PowerPoint template: To make it easy for you, I also created some empty tags. All you need to do is add your own text. I saved them as individual images and also in PowerPoint so you can edit them. Download the free PowerPoint file.
Free cartoon font: Sort through Google Web Fonts for free handwritten fonts. There are some that will work well with these tags. I like Happy Monkey.
Where Can I Find E-Learning Sample Courses?
Questions: At one of your workshops you showed some elearning examples. Can you provide the links?
I show quite a few examples based on the different topics during the workshops. For today, I'll limit the examples to those where you can also download a free template so you can get maximum value.
When I was first getting started I loved looking at elearning examples to see what others were doing and to find some inspiration for my own projects. Hopefully these simple sample courses help and you can get some use from the free elearning templates.
E-Learning Example: Simple Scenario Interaction
This is an example of a simple scenario structure where you can ask a relevant question and then provide feedback. The template has a question screen and feedback screen. The idea with this is to get away from basic multiple choice questions. Instead, create a simple scenario that's relevant to how the learner uses the content. Provide viable choices and then the appropriate level of feedback.
I like to use these simple scenarios because they are better than bullet points and standard linear slides. They also help frame the content so that it's relevant to the learners. And they're easy to build and reuse. They're a good first step away from the standard bullet point screen.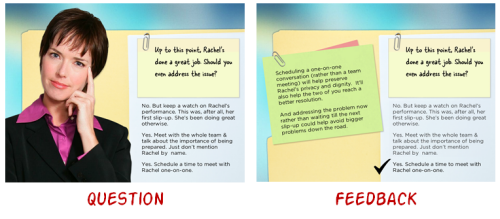 The elearning sample below was built in Storyline, but I also provide a PowerPoint version. In Storyline, each choice links to a single feedback layer. In PowerPoint, each choice links to a slide. You can download the free templates below and see how the sample course is built.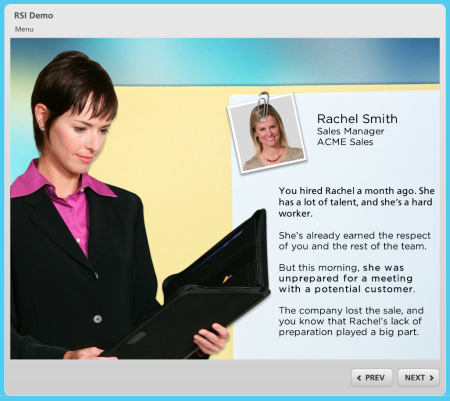 Click here to view the elearning example.
What I like about this template is that if I switch the character I can go from one industry to the next without a lot of effort. In a rapid elearning world, this reusability sure comes in handy.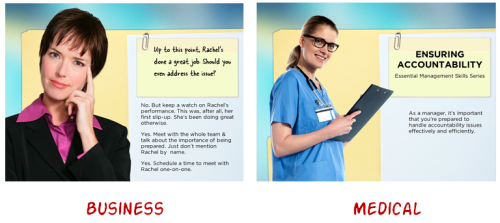 E-Learning Example: Decision-making Template
This example is for a character-driven decision. The Storyline version is drag and drop. The PowerPoint is click and reveal. It's structured the same way as the sample course above.
Click here to view the elearning example.
Just like the first template, switch the character and the background image and you easily switch the context.
E-Learning Example: Interactive Bookshelf
The bookshelf is kind of common. But I like it. This makes for a great starting menu that connects to distinct modules. We used it at a workshop to show off some Storyline demos. The free template comes with some generic books you can title for your own modules.
All you need to do is add hyperlinks to the appropriate layers or slides.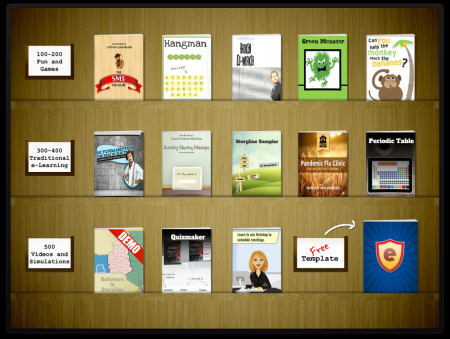 Click here to view the elearning example.
Bonus tip:
If you don't own Storyline, download the free trial and then use one of the templates to quickly create a module. For the most part, it's just a matter of swapping out the text and graphics. If you're fast enough, you can build a quick module for free.
If you use the free PowerPoint templates, you'll have to set the hyperlinks and interactive el
ements yourself. That's easy enough to do.
Either way, I hope you can find some use for the free templates. And if you have any questions about how to use them, just jump into the community and ask. We'd love to help you.
Events
Free E-Learning Resources
6 responses to "Answers to Your Rapid E-Learning Questions & Free Templates"