We all want to give proper credit to our sources when presenting content. Many of us learned to cite our sources when writing reports for school work or research papers. But does it work the same way for an e-learning course?
I had a great question from a blog reader last week:
I am a relatively new instructional designer, but I was an English teacher for nearly 20 years. When I started my new job, I found that other designers and trainers in my company were just quoting and copying resources without stating where the information came from and this really rubbed me the wrong way.
What are some best practices regarding how to cite sources for e-learning? Is there any guidance out there for something like this? It is a bit weird to stop in the middle of a scenario or game to state where the info originated, but attaching a bibliography in a resource tab seems a bit unclear.
I'd appreciate any thoughts you have. 
Credit for Free Assets
I wrote a blog post a while back that dealt with how to credit the source of free assets we find online. We covered a few different ways to give credit to the sources. I assume the mechanics of displaying content on the screen is similar. But that's still different than citing sources of the content.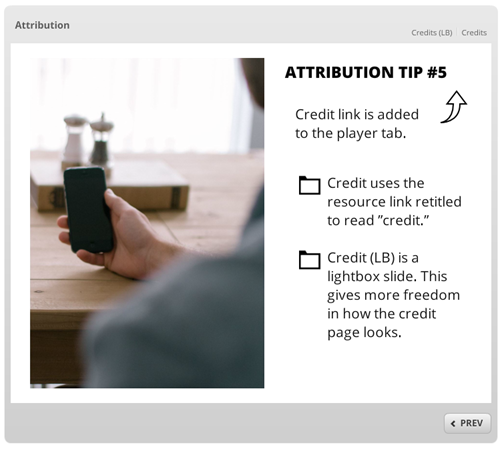 Citing Sources for Web Pages
There are a number of places that explain how to cite online sources and some even provide a way to create the citations. But again, a lot of that focuses on research and isn't specific to an online course.
Big Question: Citation for E-Learning
Creating an e-learning course is different than writing a research paper. And an e-learning course is different than a web site. Is there a different way to do this? I'll throw the question out to the community and see if we can glean some best practices.
What do YOU do (if anything) when citing sources in your e-learning courses?
Events
May 21-24 (San Diego): ATD ICE. Come visit the booth.
June 1 (Johannesburg): 2023 Learning Indaba Conference. Delivering a keynote presentation and afternoon e-learning workshop. You can also sign up to attend the conference sessions virtually. Register here.
June 2 (Johannesburg): Articulate User Roadshow. Connect with other users and learn all sorts of tips & tricks. Learn more here.
June 6 (Cape Town): Articulate User Roadshow. Connect with other users and learn all sorts of tips & tricks. Learn more here.
Everyday. Check out the weekly training webinars to learn more about Rise, Storyline, and instructional design.
Free E-Learning Resources
8 responses to "How Do You Credit Your Sources in E-Learning?"