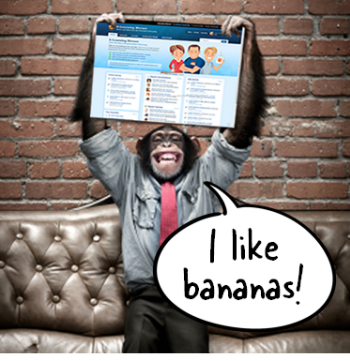 In a recent post, I shared my recent webinar with the E-Learning Guild and some of the conversation we had around rapid elearning.
In today's post we'll look at another part of the conversation where we discussed what skills are needed to succeed and how they can be nurtured.
Rapid E-Learning Developers Wear Many Hats
When I first started with elearning we'd have a team of people working on projects. Someone did the instructional design, someone else worked on graphics, and then we had a programmer who built the courses in Authorware or some other application.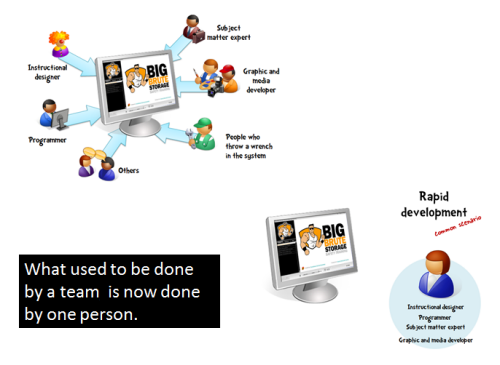 That's usually not the case today. Most of the people I talk with usually work by themselves and mostly responsible for all parts of the course development from content design to the graphics and then the conversion to elearning.
While today's software has made the job easier, but it's also made it more challenging for the person who has to develop and deliver elearning courses.
Success Requires Multiple Skills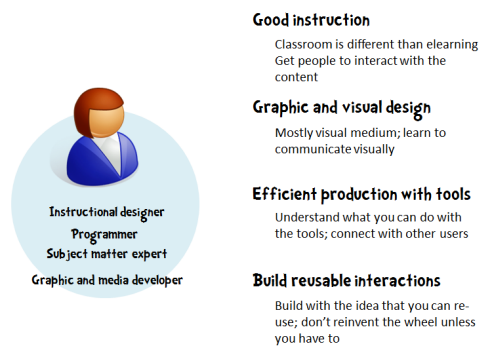 Since so much of the development of the elearning course sits on the shoulders of just a few, it's important to have multiple skills. Here are some of the skills that are critical to success:
Project consulting. This combines project management and performance consulting so that the project is focused on the right things and moving in the right direction.
Instructional design. It's important to understand how people learn and how to build good elearning experiences.
Visual design. Elearning is a mostly visual medium, so it makes sense to understand how to craft the visual experience that works best with the course content.
Experience design. Learn to build a great user experience. This is a combination of user interface design and graphic design. It's all about creating an environment that facilitates the best learning experience.
Expertise with your authoring tool. Regardless of the authoring tool you use, you need to become an expert using it. The tools are getting easier, but unless you learn to really use them you probably won't go past basic course design.
Understand common elearning technologies. "Multi" is the key part of multimedia. There are many technologies that make up good elearning—audio, video, graphics, and web technologies. HTML5 and the iPad are ushering even more considerations. You don't need to be an expert, but you should be familiar with the basics.
Acquiring Skills
One you understand the skills you need, the next step is figuring out how to acquire them. We'll explore a few ways here, both formal and informal.
Formal education. The most common expectation is to acquire them through some sort of formal education. In a previous post we discussed whether or not you need an instructional design degree.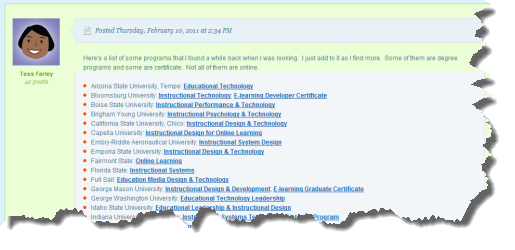 If you're looking for formal education on instructional design, we started to compile a list of degree and certificate programs in the elearning community. There are also some good comments about the experience in the forum thread.
Informal education. I think getting a formal education is good and will open many doors. At a minimum, it lets you compete for jobs where having a degree is required. However, there's a difference between a degree in instructional design (which can be broad) and gaining the skills to build good elearning courses.
You'll definitely need to augment your formal education with informal activities.
Free tutorials. In this day and age there are all sorts of resources available to learn more. Want to learn PowerPoint? There are thousands of tutorials on sites like Youtube and Screenr. Here are two good posts that cover most of what you need to know about PowerPoint for elearning:
That's just the tip of the iceberg. If you're an Articulate user, the community offers hundreds of great how-to tutorials. There's even a generic course on how to take a PowerPoint file and convert that to an elearning course. And those tips work regardless of the tools you use.
Of course, elearning isn't limited to PowerPoint. The point is that if you want to learn then you'll find a lot of free resources that help.
Read Books. There are many good books to help you get started. I'm sure everyone has a favorite. I started a list of books in the elearning community, but here are the most common that I usually recommend: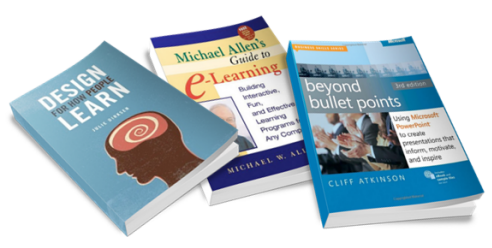 The links to Amazon books may produce a slight commission.
Real World Experience
A formal degree is only going to help you. But odds are you won't learn enough to acquire all of the skills you need to get really good at this elearning thing. And you can only learn so much from reading and viewing tutorials.
At this point you have to get your feet wet and work on real projects. Most of the skills you need come from experience. And you only get the experience by working on projects and over time.
In an ideal world, you get to work on a variety of projects that will enhance your skills. But the reality for most people is that they work on the same types of projects over and over again. So they may have built 100 elearning courses, but basically they built one type of course a hundred times.
It's up to you to get the diversity you need. Here are a few tips:
Make it a habit to review good elearning courses and multimedia examples. Then document what you like and try to work some of those things into different projects. This is a great way to develop your skills and push the envelope a bit at work.
Create before and after examples of good elearning. If you want to build more engaging courses at work, then convert one of the typical courses into something more engaging. Use that to show your organization the types of courses you should be building. People respond to good examples.
Create a personal portfolio. Some organizations will stifle your development. If that's the case, then build a portfolio to practice different things. They don't need to be big courses. For example, create ten different ways to navigate without a next button. This lets you practice ideas on a small scale and document your skills.
Volunteer. There are a number of opportunities to volunteer to build courses for others. LINGOs is always looking for help. And you may even get some recognition. Try local community groups like churches or the YMCA. I'm sure they'd love to put your skills to good use.
Stay Connected to the Industry
Years ago if you wanted to meet industry experts you had to go to trade conferences or workshops. And even then, did you really get to "meet" them?
Today, it's so much easier. The online communities and social media tools make it easier than ever to connect with others. And here's the thing about experts—we're all experts, just at different levels. Even if you're just getting started, your questions and fresh perspective help frame our understanding in new ways. You're the fuel that keeps the community vital and growing.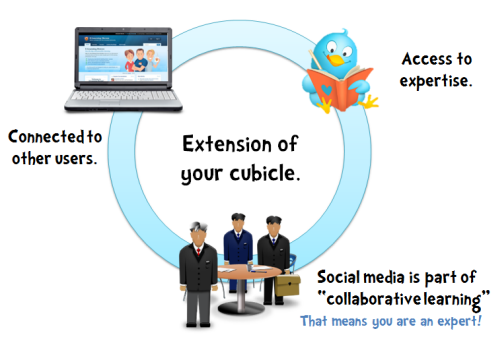 In a practical sense, the online community is going to offer all sorts of help. It curates all of the latest news. It also shares expertise and offers free resources. Software vendors like Articulate make the tools to use, but it's the community of users who develop the best practices and tricks to get the most out of them.
I see the community as an extension of your cubicle. Going forward your value to the organization is in large part going to be dictated by how well you're connected to your industry peers. The person who is connected and knows where to find the help and resources is going to always have the advantage.
Like I stated earlier, the tools are getting easier to use, but that also places more pressure on you to have multiple skills. The opportunities to acquire them exist, even if you're on a budget. You just have to be intentional about getting them.
How did you learn what you know? Did getting a degree help? Do you participate in a community or social media? We'd love to hear your thoughts. Share them by clicking on the comments link.
Events
Free E-Learning Resources
27 responses to "Do You Have the Skills to Succeed?"