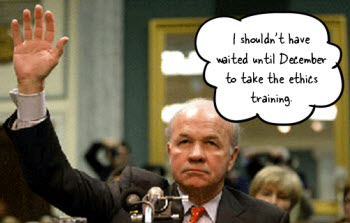 I always joke about how many times I've had to take a course on how not to receive bribes, yet I've never been in a job where I was important enough to be bribed. The reason I had to take the course was because somewhere in the organization it was determined that everyone had to learn how not to get bribed whether or not it was relevant.
Most likely you've also had to take similar types of compliance courses. You know the drill. In November you get an email reminding you to take a list of courses before the end of the year. The subject matter may be important, but when it comes to what you do it's usually not very relevant.
In an ideal world all elearning would be completely relevant to your job and compliance courses like this wouldn't exist. But they do; and that's not going to change any time soon.
So if they're not going away, what are some things we can do to make the courses better and add more value to you and the organization?
Recognize that a compliance course isn't usually a performance-based course.
Typically compliance courses are more like certification programs. They're not interested in changed performance as much as they are in certifying a specific level of understanding. In that case, the process to certify can be a lot simpler than the process to teach new skills.
Do you need an elaborate role playing scenario if you just need to be reminded where to locate the fire extinguisher and emergency exits?
Don't create a course.
Many times the compliance courses share information that is already available in other formats in the organization. If that's the case, do you need a full multimedia product to share that information? Perhaps all you need to do is distribute a .PDF or other type of document to remind people.
If you need to do some tracking, build a simple quiz. Make the .PDF available to the elearners and then let them go online to take the quiz. The production process is a lot simpler and my guess is those who take the courses will appreciate a simpler approach.
What does the law really say?
Most compliance courses come with all sorts of constraints that aren't conducive to good learning. For example, the course navigation is locked or there's way too much information. When you challenge that approach to the course design, usually someone will whip out "the law says…" card.
True, there are some legal or regulatory guidelines that dictate how to build the courses for certain subject matter. But I'd spend some time to really look at what the requirements are, especially if the alternative is to build a boring and cumbersome elearning product.
In the end, you'll still have to do what the law says. But from my experience the requirements aren't always as draconian as first believed. And if they are, then that's good to know.
Keep it simple.
Let's face it; for many people compliance training is a waste of time. In those cases, make the course structure as simple as possible. Making an elearning course interactive doesn't make it more meaningful, but it does make it more time-consuming. Sometimes all you need is five bullet points.
Interactivity is good when it fits the learner context and needs. But interactivity at the expensive of a simpler linear solution is a waste of time for the learner and the organization. So build a course that's appropriate to the objective. If the objective is merely to have checked completion on December 31, then a linear course probably suffices and you can commit your resources to more meaningful elearning courses.
Let them test out.
I delivered an annual safety program once that had over 20 modules. Each module took 10-15 minutes. That's up to 300 minutes of information. Multiply that by 15,000 people who had to take the course and you have over 75,000 hours of training. What does that cost the organization in lost productivity?
If you want to certify that they know the information, create a way for them to test out. Put an assessment up front to determine their level of understanding. If they can demonstrate that they know the information, why force them through the course?
Most likely you'll still meet your compliance requirement and you'll save the organization valuable time and resources.
Don't lock the navigation?
The most frustrating experience in an elearning course is when the navigation is locked. I equate it to gluing all of the pages of a book together. Usually the reason we lock navigation is because we're worried that they "won't get all of the information."
If you need to make sure they "got the information" then build in a mechanism so they can prove their understanding of the it. The only thing you can make sure of with locked navigation is that they visited a screen and clicked the next button when allowed to.
Reframe it so it is relevant.
While there are many compliance courses that aren't relevant, most likely the information in the course is relevant in some way to the learner. The key is to find out how and then frame the content in a perspective that makes sense to the learner.
If you're not quite sure how to do that, go talk to a few of them and ask how they'd use the information or where it applies to what they do. Then use their feedback as a way to reframe the content. Move it away from general compliance information and into a product that is meaningful and pertinent.
We don't want to be cynical about compliance courses because in most cases the information is important to the organization. In an ideal world, you'll be able to build targeted courses that are meaningful and meet the organization's goals.
But the reality is that often the goal is an end-of-year record of completion. In those cases, it may make more sense to do a simple course to meet that goal. It'll free up your resources and the time of the people who have to take the courses.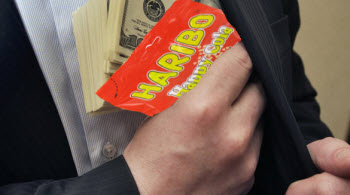 By the way if you do want to bribe me, I've been known to enjoy the Haribo Happy Colas.
Events
Free E-Learning Resources
25 responses to "How to Deal with Those Pesky Compliance Courses"