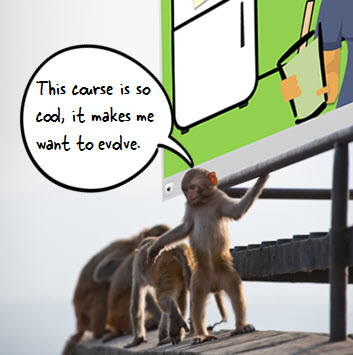 Rapid elearning played a role in the evolution of elearning mostly because it took course creation out of the hands of a few programmers and placed it into the hands of anyone who wanted to create a course.
I see this as the democratization of elearning. And it runs parallel to how digital media's empowered people all over the world to create and deliver content using a host of online tools and social media applications.
Some people lament this democratization. They think that only they should be able to create and deliver courses because they apparently have some sort of special training. But that's all just nonsense.
It's a good thing when people are empowered. In fact, the industry used to spend a lot of time talking about the programming part of elearning. But now we're spending that time discussing instructional design and effectiveness of elearning. And that's good. What people lack in terms of instructional design skills they can surely learn just as well as any of the lamenters did.
Speaking of evolution, last week was a hallmark week for me. It was my fifth year working at Articulate and we also released Articulate Storyline. I've been blessed to work with a great group of people and have spent the past five years getting to meet so many passionate elearning developers.
I am really excited about Storyline because it falls right into the evolution of our industry. The tool is easy to use and at the same time it's empowering because it offers a level of capability that didn't exist years ago without requiring some programming know-how.
My Favorite Features
In today's post I want to show off a few of my favorite features. While I've been in this industry for a while, I'm still like many of you. For the most part I work by myself, I'm not a programmer, and I have to make do with the tools I have…and I have no budget. So when our developers gave me a copy of Storyline I was giddy with excitement. Finally, I could create a lot of the interactivity that I wanted to do but couldn't because I didn't have the Flash programming skills.
Build Drag & Drop Interactions in Seconds
Who doesn't want to use drag & drop interactions? The challenge for many of us is knowing how to build them. Storyline makes it super easy.
Any slide you create in Storyline (or import from PowerPoint) can be quickly converted to a drag & drop interaction. It literally only takes seconds to do the conversion. That's pretty powerful.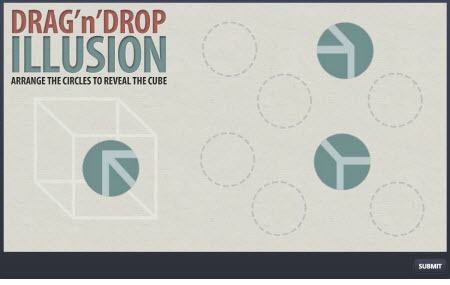 Click here to view a drag & drop interaction.
Now instead of spending time on programming, you can spend your time determining the best way to use drag & drop interactions in your elearning courses.
Tutorial: How to build drag & drop interactions. Learn how easy it is to convert any slide to a drag & drop interaction.
Use Interactive Characters to Enhance Feedback
The challenge for many people is having the assets to build elearning courses. Storyline comes with 40 illustrated and photographic characters so that you'll always have a consistent set of characters to use in your courses.

The illustrated characters are tied to Storyline's triggers so you can change the character's expressions based on user actions. This is great for giving feedback to the learners.
Here's a demo that Jeanette and her daughter created on how to make a Green Monster drink. It's fun and shows an effective use of the character set.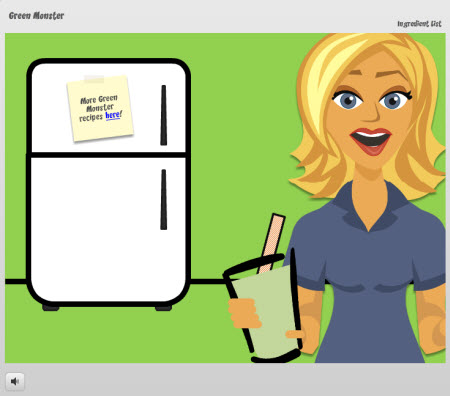 Click here to view the Green Monster demo.
Tutorial: Create interactive feedback with Storyline characters. Watch how I build a quick call center scenario in just a few minutes.
Easily Customize the Course Player
Rapid elearning is great because it simplifies a lot of the production process. But with that simplification you give up some customization. This is really evident in the course player. It reminds me of the old Henry Ford line, "You can have any color you want as long as it's black."
Storyline makes player customization super simple. Take a look at some of the demos from the showcase. As you can see they all look a little different. That's because you have more control over the player.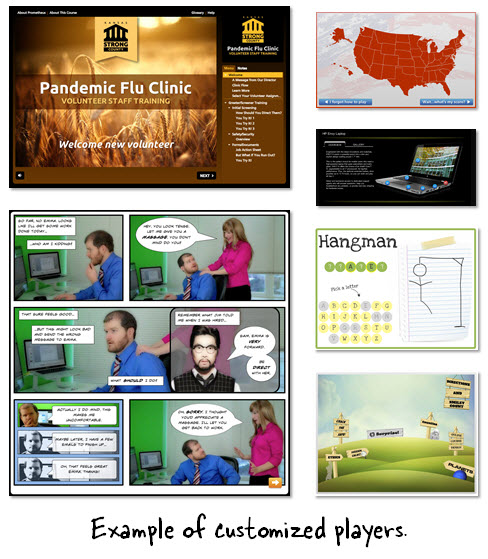 You're not tied to a specific look or size of the course player. You can easily move things around, turn them on or off, and change the dimensions of your elearning course to meet your needs. And you're always free to create your own controls within the slide. That's what DFLearning did in this example.
Tutorial: How to customize the elearning course player. I walk through the player customization. Check out the lightbox feature for the player.
Easily Edit Screencasts & Software Simulations
At a previous company I had to build a lot of interactive software simulations. I really didn't enjoy it because the editing process was always so cumbersome. I hated having to edit screens or do multiple takes of the recording, especially when it required resetting all of the screens and activities.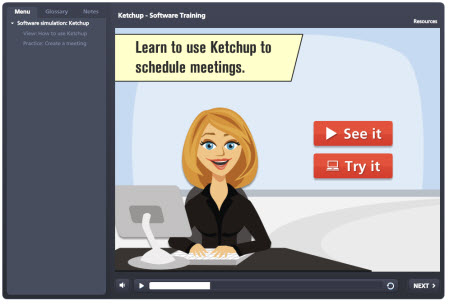 Click here to view screencast demo.
One of the things I truly enjoy about Storyline's software simulation is the way editing works. First, you record your software demo. Then you decide if you want to insert just the video or an interactive simulation. And here's the best part. At any time you can go back and change it.
For example: you insert a video, but the client wants to convert that to a simulated software interaction. In the past, you'd have to recapture everything. Now, you just go to the video and switch modes. It's
as easy as that.
Same with editing. If I get an artifact or something on the screen I don't want, I just right-click to access the fine tuning feature and select a frame without the issue. Editing only takes a few seconds. That sure beats all of the time I spent doing recaptures in the past.
Tutorial: Quickly make edits to software simulations. Learn to make quick edits and change modes without having to recapture the video.
Create Courses that Look Great on the iPad
I really love the way the content looks on the iPad. I've probably showed it off to all of my friends and neighbors. It just looks good. And it works great, too.
All of the demos and showcase examples work on the iPad. Download the free mobile player and you'll see that you get a really rich experience. Much better than what you get with HTML5 which has some limitations when it comes to interactive content.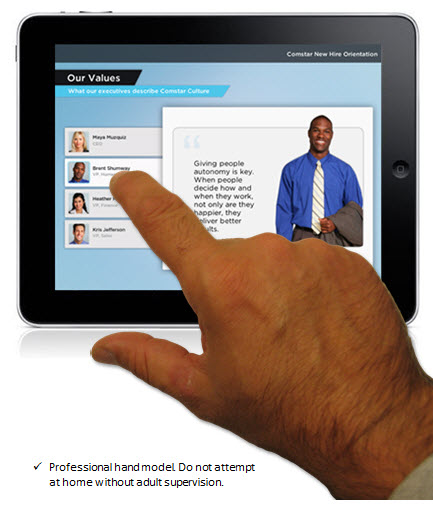 You'll notice that with the mobile player all of the interactivity works the way it was designed to work. I like to pinch the slides out so they play full screen. The content just looks like it belongs there. It doesn't look like a clunky web page.
Easy Sharing of Storyline Files
My focus is always on how to give away assets and content to help people build their courses. One of the best things about Storyline is the ability to share slides and templates with other Storyline authors. It's about as easy as sharing slides in PowerPoint.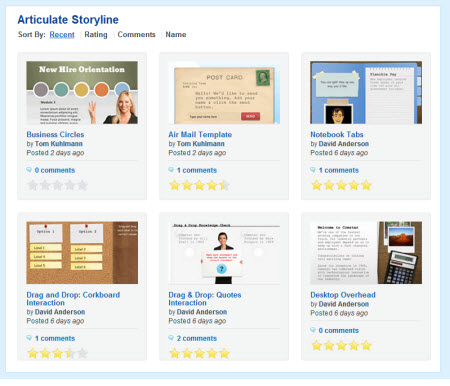 We've already added some content to the downloads section that are free for you to use. I've even converted a few of the free PowerPoint templates to Storyline templates.
You may recognize these two:
Over time there will be all sorts of free interactive content that will save you money and time.
There's really a lot more to Articulate Storyline, but those are some of my favorite features. As I said earlier, like many of you I'm not a programmer so I'm really excited about the tool and all of the stuff I'll be able to do with it.
If you want to learn more, checkout these videos. And feel free to download the trial and use the free templates to test it out.  I look forward to your feedback.
Events
Free E-Learning Resources
36 responses to "The Next Generation of E-Learning"