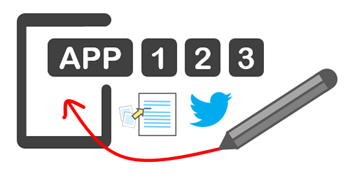 I like to play with new apps and test them to see how they help me be more productive or get better at building courses. Today I share three free apps that you may find to be time-savers or help be more productive.
Help with Google Docs
We use Google Docs here at Articulate. If you use Google Docs, then you know that when working on projects, you don't just have one Google Doc. Instead, like dandelions they grow exponentially, and you end up with dozens of Google Docs. In fact, I was thinking about writing a follow up to the If You Give a Mouse a Cookie books based on giving someone a Google Doc, because chances are…
Here's an easy way to add links to a Google Doc from other Google Docs.
Because we tend to have a lot of documents for each project it's easy to lose sight of what's there. Some people create a master document with links to all of the other docs. However, it's a pain to dig around finding links and adding them to the master document.
However, if you use the Link Chooser add-on, it's just a matter of quickly finding and adding a link right from the document. This creates a link and title for the link. Here are the steps:
From inside Google Docs, select Add-ons > Get add-ons and select "Link Chooser."
To add a link from a different document, go to Add-ons > Link Chooser > and then select the file or folder you want to link.
A link to the document will be added.
This is a great way to create a master document for your project with links to all supporting documents in Google Drive. There are all sorts of additional add-ons that will extend your Google Docs. Be sure to check them out.
For you Google Docs users, are there any extensions or add-ons you like to use?
Share Your PowerPoint Slides to Twitter & Facebook
I like to tweet some of my workshop presentations. I used to convert my slides to images and then tweet the images. However, Microsoft has a new app that lets you share your PowerPoint slides and files via Twitter and Facebook.
Get the Social Share app here, and it installs as a tab in PowerPoint.
Using Social Share via Twitter & Facebook
Select a PowerPoint slide and from the Social Share tab, do a screen capture of the slide.
You can also send PowerPoint slides to Facebook as an image, album, or video.
Create Simple Explainer Videos and Whiteboard Courses
Here's another cool app from Microsoft that is free and helpful. This is also great to have if you one of those 2-in-1 computers with a stylus.
Download the Snip app. It's persistent on your desktop and easy to access.
Once you create a snip you can record audio to quickly explain an image or create a quick whiteboard video.
Save the video as .MP4 and insert into your elearning courses. Here's a quick video test I made based on one of my PowerPoint slides on interactive elearning.
It's a simple tool, but one that may come in handy for quick explanations. And it's free.
Of the three tools the one I find the most useful is the Google links because I use Google Docs every day. Do you use any of these free apps? If so, how's it going? If not, which one do you like best?
Events
Free E-Learning Resources
4 responses to "Here are Three Free Apps that May Come in Handy"