I was leading a PowerPoint workshop last week and noticed that Microsoft recently changed the way images are searched on their site. That impacted part of my workshop and some of my blog posts where I show how to find free clip art images online.
I'm sure you'll run into similar issues if you haven't already. For those who depend on the Microsoft site for free stock photos and illustrations, the recent change makes it challenging to find the right images.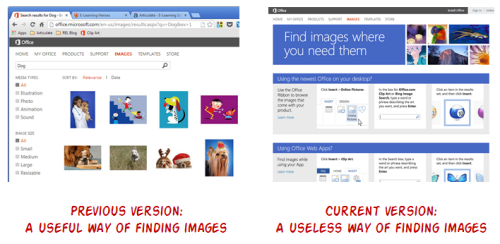 Bookmark This Link to Get Free Stock Photos & Illustrations
Following is a direct link to the site that allows you to search and find the free clip art and stock photos you need. Bookmark it because unless they change their site back, there's no easy way to locate the same images which I show below.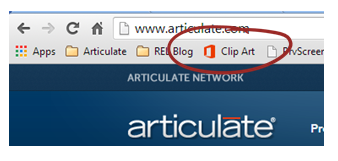 The link will take you to a search results page that will state "Sorry, no results found for…" That's OK. This is just a blank search results page. From here you can access the image search by typing in the image you need.
In fairness to Microsoft, they do a make a lot of free stock photos and illustrations available to those who use their tools. And many of those can be found from inside the Microsoft Office applications. But the online search from their site is lacking and their solution with Bing doesn't work to find only the free stock photos that are part of the office suite.
How to Find Free Stock Photos & Illustrations
If you search for clip art and pictures using the feature inside of PowerPoint (or the other Office applications) you'll get a good list of images. But there are a few issues compared to the online search. Let me explain.
Fewer search results. The first issue is that it's not an exhaustive list. You don't get as many search results in the clip art box in PowerPoint as you do searching the same thing online. Make sure to bookmark this link to search online for free stock photos and illustrations.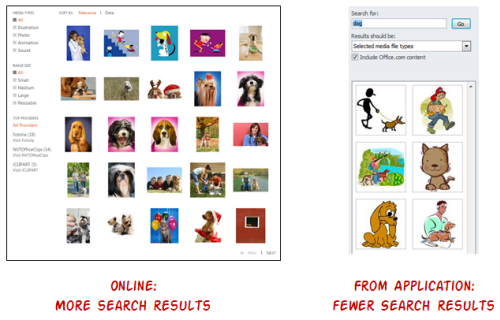 Can't search image properties. Online you can view the properties of the free clip art and free stock images. From there the search can be fine-tuned based on the keywords because they're linked. You can't do the same when viewing the keywords from inside of PowerPoint.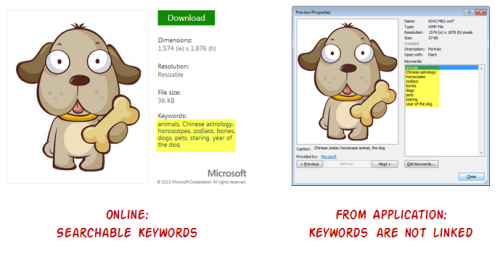 No way to find free images of the same style. A lot of clip art is related to a specific style. One of my favorite tips is to use the free clip art of the same style. This helps build a visually cohesive course. Online you can find images of the same style. That doesn't work offline inside of PowerPoint because there's no indication that the clip art or free stock photos are linked to a specific style.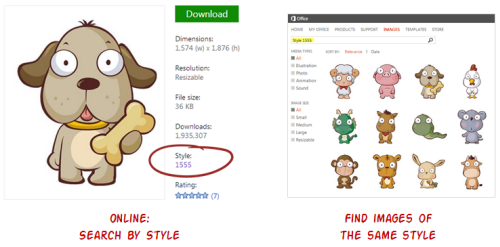 No connection to similar images. A feature I really enjoy on the Microsoft site is searching similar images based on "visual style and shared key words." This really comes in handy.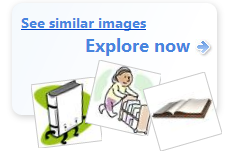 Many of the free stock photos or illustrations that Microsoft makes available aren't catalogued by a specific style. However, when using the "see similar images" feature there are a lot of options from which to choose.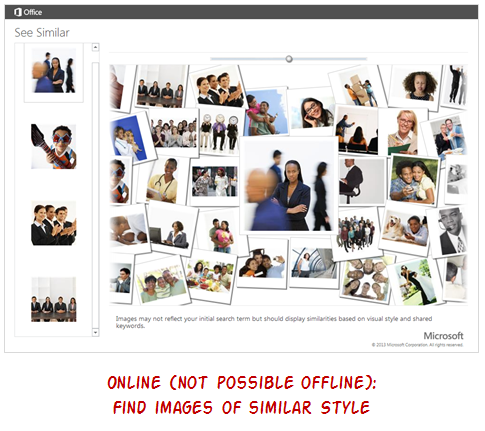 Do you use the free clip art and free stock images from Microsoft? If so, save this post and bookmark the link. Be sure to share it with your co-workers or anyone else you know who may be frustrated with the recent changes to the site. It'll save them some time looking for free stock photos and illustrations.
Events
Free E-Learning Resources
39 responses to "Here's How to Find Free Stock Photos & Clip Art for PowerPoint"