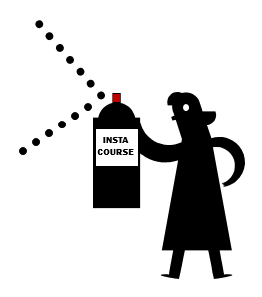 Effective online training involves more than just sharing information. It also requires the learner practice and apply what you've taught them.
Despite our best efforts many online courses are still mostly linear. As I've mentioned before, that's probably fine for those annual compliance courses that aren't tied to specific performance objectives. But if you want to build courses that are effective and engaging you need to focus on sound instructional design and the activities required to learn and prove understanding.
Effective Online Training Starts with the Tell, Show, & Do Technique
A common approach to online course design is to Tell, Show, and Do. It makes sense because it covers the basics.
Tell them what they need to know or provide context that is critical to what they need to learn. For new learners, the context is important and helps them understand where the learning fits in the big picture. Telling also allows you to speed things along and make acquisition of the information faster.
Show them so they can see what they are to do. This lets them see the proper sequence of events and allows you to fill in any gaps or answer questions they may have. One thing to keep in mind with showing is to focus on the positive action. Sometimes we'll show a negative action as an example of how not to doing something, but that could end up being what the learner learns.
 Do the task lets the learner practice doing what you just showed them. The goal is to get the learner to practice and then apply what they learned in a real-world context. The application of the new skills can be part of the "Do" process or as an added component. For example, when I first started out my manager used to say that the instructor did the Tell & Show and the learner did the Do & Apply.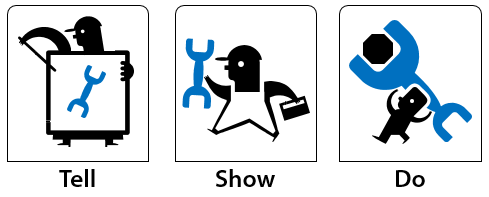 The Tell, Show, and Do model is a common instructional technique because it lets you build context and demonstrate the desired performance. And in the end the learner gets to practice applying what they learned. What's also good about this technique is that it nudges you away from the linear, click & read model that is so prevalent with a lot of online training.
Tell, Show, Do, Practice & Review to Build Effective Online Training
When I was training junior level instructional designers I liked to say "Tell, show, do! Then practice and review!" because it rhymed and was an easy mantra to remember the essential steps required in the learning process. It covers everything from providing the core information to debriefing the learning experience which is more involved than the more common Tell, Show, and Do technique above.
Tell them what is going to be taught and why so that you can build context. This helps them see the relevance and how it fits in their world.
Show them what they are going to do so that they can see what's expected and you can address common questions and concerns during the demonstration.
Do the task. Have the learners do it so they can get the initial hands-on experience and you can observe and give them the feedback to make sure they're doing it right.
Practice the tasks. In the real work environment they may get limited touches on specific tasks. The learning environment is controlled so you can have them practice a lot more than normal to gain mastery. I like to let them practice on their own without a lot of oversight (assuming you provided appropriate feedback in the "Do" stage).
Review the practice activities and debrief. What did they learn? How comfortable are they doing them? Are they able to accomplish the learning objectives? What are the next steps?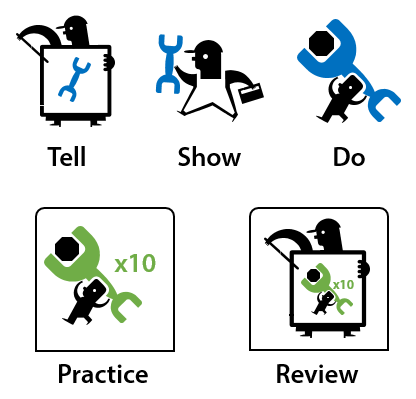 I like this technique better than the first one because it includes the review and debriefing. This is also a great way to structure a peer coaching process when mentors or peer coaches do a lot of the training. It gets them to do more than just show how something is to be done.
Build Effective Online Training by Starting with an Activity
Instead of building context and showing them what to do, have them start by doing an activity first. I call it the HAT technique (because I needed three bullets).
Hands-on activity: Start with an activity. This gets them engaged and thinking through the instruction. They can play and test things out. It's also a way for those more experienced to go through the training at a different pace than those less experienced.
Advice: You can provide feedback or advice during the activity as part of a guided process, or you can wait until they're done to debrief what they did and learned. This helps fill any gaps and answer questions exposed during the activity.
Tell: Once they complete the activity and debrief you can build additional context with more detail.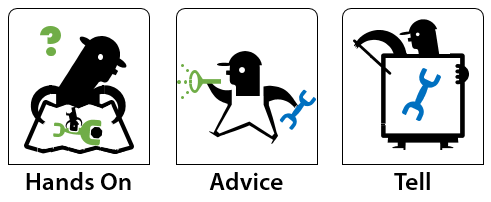 This technique is effective and starts by engaging the learner. However one of the challenges with this approach is that it requires more time to think through and build effective learning activities. On top of that, many clients demand a more linear solution like the common Tell, Show, and Do technique. But by doing the activity first you get people engaged and constructing their own understanding sooner. It also helps them identify their own knowledge gaps which helps build context for the instruction you want to provide.
Regardless of the technique you use, the key is to get them doing something to practice and demonstrate what they know. This will help you move past the linear information sharing and towards more effective online training.
Events
Free E-Learning Resources
9 responses to "Instructional Techniques for Building Effective Online Training"