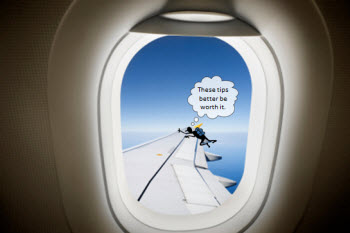 I'm coming off of back-to-back-to-back conference sessions and elearning workshops.  While the travel gets old, I really enjoy getting to connect with so many of the blog readers.
What I like best is that I run across so many different questions and elearning use cases and examples.  I'm always amazed at the creativity in our industry.  In addition, I get lots of time to reflect on things as I fly across the country. 
Following are three things that stood out to me during my recent travels.
It's important to connect with people.
I stopped in one of those airport shops to pick up a couple of knickknacks for my kids. The young woman who processed my sale really stood out.  It was one of the best customer service experiences that I've had in recent years.
As I was sitting in the lobby I thought more about it.  What's funny is that she really didn't do anything out of the ordinary.  As a matter of fact she did exactly what others would have done when it comes to processing the purchase.  Yet, the experience with her really stood out.  Why?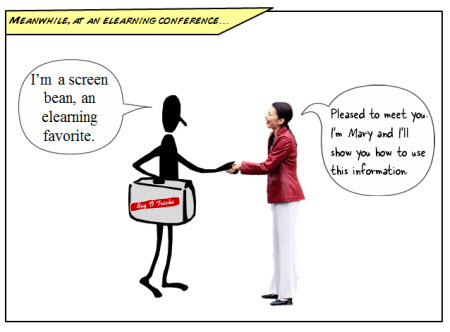 It's because she connected with me in a real way.  She had a welcoming disposition, warm smile, and actually engaged me.  As a busy traveler, I felt less like a sales order being processed and more like a real person.  What she did was connect with me as a person and not as a requirement to complete her job.  And it stood out.
There's a lesson here for those of us who build courses.  Learning is a very personal experience.  Yet so often, we treat those who take the courses like cattle being processed rather than real learners.  Here are a few ways that we make elearning impersonal:
Things to ponder:
What's the equivalent to a warm smile and personal greeting in your course?  Are your elearning courses lacking personality?  Are there better ways for you to connect with those who have to take the course? 
Where am I and where am I going?
Maps and traveling go hand in hand.  A map lets you chart where you need to go and then provides a way for you to assess how far you've gone and where you're currently at.  In the same sense, your course needs a map.
When I do workshops on interactive elearning, one of the first points I make about engaging people is that they need to know what's expected and how long it will take.  People want to know what type of commitment they have to make before starting a course.
When someone sends me a YouTube video link, the first thing I do is look at how long it is.  If it's 90 seconds, I'll probably watch it.  But if it's 6 minutes long, odds are that I won't.  Knowing the requirements to view the video plays a role in how engaged I'll be in the process.  The same can be said of your elearning courses.
When you deliver an elearning course, the expectations of the learner should be clear.  They need to know how long it is.  Also, during the course they should be able to assess their progress and how well they're doing.
Things to ponder:
Are you making the expectations clear in your course?  And are you providing a way for them to assess their progress?
Engage learners by letting them create content
Whenever I travel I try to set some time aside for informal Articulate jam sessions.  It's a great way to connect with blog readers and answer questions.  The most recent jam session was hosted by the Cheesecake Factory at their headquarters location.  You can't go wrong when you mix elearning chit chat with delicious Cheesecake.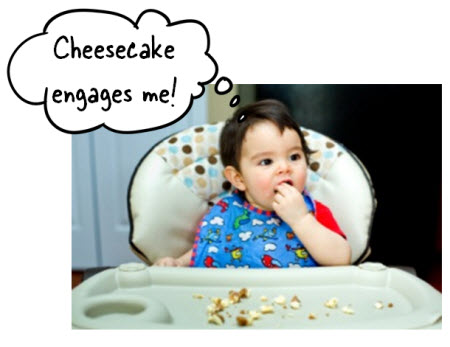 During the jam session, they shared one way they use videos in their training program.  In a recent activity, they had all of the restaurant greeters videotape their best customer greeting and then upload the videos to their internal video site.  The videos were made available to others in the organization and they ran a contest to go with them.
Here's the value in this approach to training:
The goal is to get the employees to learn the proper way to greet.  Normally, we'd push out a ten slide elearning course that shows how to greet.  With the videotape challenge, you get the learners focused on the best approach to greeting.  How many times do you think they'd practice the right type of greeting before they submitted their tape?  So you get the learner engaged and practicing real activities in a fun way.
The employee videos were highlighted creating an environment where people were looking for videos and the recognition their team or site would get.  It's a great way to build a motivating and engaging training program.
Instead of the elearning team having to create greeting videos, they were created by people who actually do the greeting.  It's a time saver and authentic for the others who will learn from them.
Things to ponder:
Is there a way for you to integrate user content with your more formal elearning development?  Perhaps you can have someone create Screenr videos where they show how to do something.  This lets them demonstrate their understanding and also gives you content to use to teach others.
There are all sorts of sites where your learners can create content and then provide you with an embed link that you can insert it into your elearning courses using the web object feature.
What all three of these points have in common is that in some way the approach is learner-centric.  Most elearning courses I see are focused on the content and how to deliver it.  Unfortunately, many times the learner is lost in the process.
One of the best things you can do to make your elearning courses effective is to shift the focus away from content delivery and place it on how the learner will use the content.  This lets you deliver a course that is engaging and relevant to the learner's needs.
Events
Free E-Learning Resources
15 responses to "3 E-Learning Lessons Learned on the Road"