I've gotten a lot of emails about my last post on creating simple puzzle animations in PowerPoint.  Based on some of the questions in the emails, I thought it would be good to go over some simple tips and tricks that I've learned over the years.  They help make working with PowerPoint more productive.
Review the tips below and then watch the tutorial for more detailed information.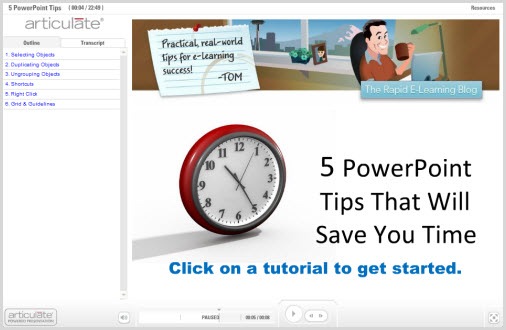 Click here to view the PowerPoint tips tutorial.
The tutorials are a little more detailed than the post so they take a little more time.  The link above takes you to the entire tutorial.  If you want to see individual parts of the tutorial, click the links below:
1. How to select objects on the screen
Click and drag the mouse to select objects on the screen.  Only those items that you drag over completely are selected.  So, you can avoid selecting objects by not dragging over the entire image.  This works really well when trying to group and ungroup clip art.
Select and unselect objects by holding down the shift key and clicking on them.  I'll drag the mouse over a bunch of objects to capture them all, then the ones I want to remove, I just SHIFT+click on them.
2. How to duplicate objects and slides
You can quickly duplicate objects and slides, by placing your mouse over an object.  Press the CTRL key and you'll see the mouse with a "+" sign.  Then click and drag the object where you want it to be.  You can do the same for slides in the viewer modes.  Just CTRL click and drag the slides.
Another option is to select a slide or object and press CTRL+D.  That duplicates the object.
3. Leverage grouping and ungrouping of objects
Right click on objects to group and ungroup or use shortcuts:

PowerPoint 2007: CTRL+G (group) CTRL+SHIFT+G (ungroup)
PowerPoint 2003: CTRL+SHIFT+G and CTRL+SHIFT+H

I've slowly been building my own library of custom content.  I've developed the habit of converting my grouped objects into vector images and then reinserting them in the slide.  This way I can easily use them elsewhere.  By saving them as vector images, I'm also able to ungroup and edit them inside PowerPoint.
4. Keyboard shortcuts & right clicking
There are a bunch of keyboard shortcuts that you can use to make your production process faster.  The options for PowerPoint 2003 and 2007 are a little different. 
There are some basic shortcuts that I use all the time for copying and pasting.  I also do a lot of grouping and duplicating.  I can't go through every shortcut in this post.  However, if you review the links below you can see what they are.  You might even find features that you didn't know existed.
Here are links for the two:
In addition to learning some keyboard shortcuts, get used to right clicking on objects.  That will always open a context sensitive menu that reveals options and features available to you based on what you right clicked.  It will save you a lot of time looking for menu items.
I love PowerPoint 2007 and think it really helps make PowerPoint a better tool to author elearning.  I'm going to do a post on my observations in the near term.  However, if you're between PowerPoint 2003 and 2007, I found this quick reference guide on the Computerworld site with a good comparison of the keyboard shortcuts for both products.
5. Use the grid and guides to help align objects
Using PowerPoint's grid and guides will help you keep objects aligned.  As you can see, the menu lets you modify the grid spacing, snapping of objects, and drawing guides.
I use the drawing guides on every project.  They help me align my objects across screens.  Duplicating them is the same as duplicating anything else in PowerPoint.  Select the guide, hit CTRL, and then drag the guide where you want it.
PowerPoint is a very effective tool to build elearning courses.  The better you get at using some of PowerPoint's features, the more effective you'll become when building your courses.  Hopefully, these tips and tricks will help you become a little faster at what you do.
If you have some tips and tricks you'd like to share, just add them to the comments section.  Also, feel free to share these with others. 
Events
Free E-Learning Resources
36 responses to "5 Must-Know PowerPoint Tips That Will Save You Time"