As a general rule, it's good practice to edit files on your local drive and not a network drive (or online storage like Google Drive or Dropbox). For example, when I work with a .story file that's on Dropbox, I'll sometimes get some sort of syncing error or a series of duplicated or conflicted files. This makes sense because the drive is constantly monitoring changes in the file and updating the file. One tip for Dropbox is to pause syncing if you're working from a Dropbox folder.
However, I like to move files from the network drive to my local drive to do production work and make the edits. However, that means what's on the desktop is the most current and not backed up. If my computer crashed, I'd lose everything. Thus, I need to move things back to the storage drive when I'm done. The challenge is remembering to do that.
I've had times where I work on a file and then go to eat and come back to find my computer crashed or maybe the app closed. Or every once in a while, there's the quick power outage. Whatever it is, there's always the chance you lose your work and because it wasn't backed up, you can't access the most recent one from your storage drive.
To avoid these issues, I use SyncToy, a free application from Microsoft to back-up my files at night. Here are the basic steps:
I work from an "active projects" folder on my desktop.
I create a duplicate folder on Dropbox (or any storage/network drive).
I set my folder on the desktop to automatically sync with the duplicate folder. This overwrites what's in the storage drive folder, thus any changes I made during the day are preserved. An added benefit with some of the services like Dropbox is that there's some versioning control, so that comes in handy, as well.
Using SyncToy
I wrote about this solution almost ten years ago. It's still viable. Unfortunately, Microsoft doesn't promote the application anymore, but you can still download SyncToy from here. I am on Windows 11 and as you see in the tutorials below, it still works fine.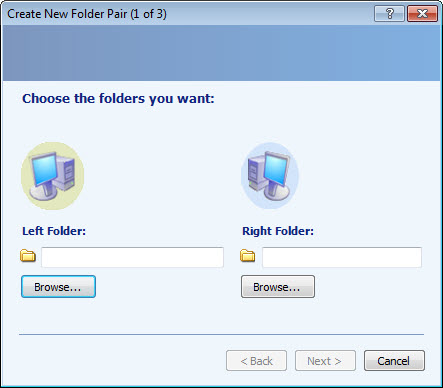 You select a "Left" and "Right" folder to sync, and then determine how and when you want to sync them.
The left folder is my "active projects" folder on the desktop. The right folder is my storage drive folder. I set it to sync every night at 8:00 PM. Here's a tutorial that shows how to set up and sync two folders using Microsoft SyncToy.
To sync the folders, open SyncToy and select "Run." Of course, that requires you remembering to do so, but that's where the next step comes in.
View the SyncToy tutorial on YouTube.
Task Scheduler
Your Windows computer has a task scheduler that lets you schedule tasks to run at specific times. That's why it has that fancy name.
In this case, I want to create a task to run SyncToy at 8:00 PM daily. The tutorial below walks through the basic steps of creating a new task and when to run it.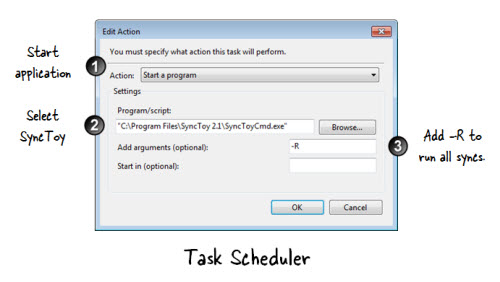 What I am showing you is relatively simple. There's a lot you can do with Task Scheduler and I'm sure you can find a ton of information on the Microsoft site or on YouTube.
Let's review the process:
Create a folder on your local computer to manage your e-learning projects.
Create a duplicate folder on your storage drive.
Set up a folder pair to sync the two folders.
Create a task with Task Scheduler to automate syncing the two folders at a specified time.
View the Task Scheduler tutorial on YouTube.
Too bad SyncToy isn't going to be around forever and perhaps one of you have a comparable solution to offer. In the meantime, you can still download the application and it's still a viable process.
What do you do to manage files between your local and network drives?
Events
Free E-Learning Resources
3 responses to "How to Automatically Back-up Your Course Files"