People are always asking me about how to get better at building elearning courses.  They want to know which books to read, which classes to take, which school to go to, etc.  It's like they're walking around with these big fat wallets wanting to spend money.
While all of the aforementioned options are valuable, there's a way to learn that doesn't cost you a dime.  All it requires is some time and willingness to share what you're learning.
Here are three cool experiences that demonstrate a great way to learn and the value in sharing what you know.  You'll even get some practical tips to boot.
Find Free Tips & Tricks
Stephanie Harnett of ICE shows a cool tip for creating a transparent tape effect in PowerPoint.  The effect is easy enough to learn and practice in a few minutes.
There are also a lot of uses for the effect.  For example, you can combine it with the notebook template I shared a while back.  Or use David's Polaroid idea and "tape" them to a wall on your elearning course screen.
Click here to view the tape effect tutorial.
There are a lot of free tips and tricks like this on the internet.  Probably the best place to start is the user community.  There you can connect with like-minded people.  So, become a member of your software's user community.
If you're a rapid elearning developer, you can find a bunch of great demos and examples on Screenr.  If that doesn't work, look for a local user groups, connect with people via Twitter or follow personal blogs.  Here's a great example from Sumeet Moghe where he walks through the process of creating a course on a limited budget.
If you're an Articulate rapid elearning developer, we've got a lot of help in our community tutorial list (and there are new ones almost daily).  In either case, the first tip is to find and follow the people who can teach you new skills.
Practice, Practice, Practice
Watching tutorials and reading blog posts will only get you so far.  You have to practice the things you learn from them.  Otherwise, what's the point?
If you practice what you learn, not only will you learn new techniques, odds are you'll also become more efficient at what you do.
Click here to view the Electric Pallet Jack demo.
Here's an example from a recent conversation I had with David Anderson.  The other day someone in the community forums asked how Prometheus had built the Electric Pallet Jack demo above.  Specifically, they wanted to know how they built the animation effect on slide 19.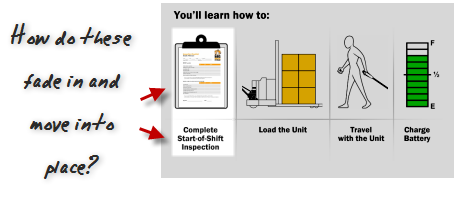 David wanted to do a quick screencast.  So he looked at the example, came up with an answer, and then proceeded to practice it.  Initially, he tried to combine the fade in and motion path animations.  However, they just didn't look right.  So he tried a few things before he stumbled upon the often overlooked ascend and descent animations.
What David found was that his initial solution wasn't the best approach.  But he only realized this after practicing the technique. Once he had a good solution, he built a quick prototype and created a screencast to share with the community.  You can see his solution right here and learn to build a similar effect for your own elearning courses.
The main point here is that when you see something (or have an idea) practice doing it.  You might not have it down the first time, but eventually you'll come up with a solution that works.  And you'll develop a production process that helps you become faster and more efficient.  That's what happed with David. And it's also what I advocate in posts like this where I discuss building templates and graphics to better learn PowerPoint.
Share What You Learn
You don't have to be a recognized guru to share what you know.  Stephanie's tape tutorial doesn't require a Master's in Graphic Design.  Yet it offers real practical uses.  And that's more important than some abstract tip from an 80-year old elearning sage.
I'm sure that there are plenty of tips and tricks and things that you're learning right now that can benefit others.  Why not do a quick tutorial?
Here's an example of how sharing what you know makes the community stronger and contributes to you learning more and expanding your skills.
The other day, Tracy Hamilton shared a quick tip on how to nudge PowerPoint objects by pressing the ALT key and dragging with your mouse.  She used the technique while creating a mitered frame look.  Watching her demo, made me wonder about different ways you could build a picture frame.  So I played around with some ideas.
What's cool about this is that Tracy shared what she knew.  It prompted some ideas to play with. And I created this screencast to share what I learned.  It's a great example of how we learn by sharing and building off of each others' ideas.  The same could be said of Sumeet's post above.
Here's one final example that really speaks to the power of community and offers some good tips for your next elearning course, too.  It combines the folder template I shared with Jeanette's hands animation to create a completely new tutorial with additional tips that you can use for your next elearning course.
Click here to view the folder tutorial.
While going to school is good, there's no reason why you can't learn a lot of what you need to know from your community of peers.  All it takes is a commitment to learn, practice, and a willingness to share with others.  If you do that, you'll probably learn a lot of stuff you wouldn't have learned in school anyway.  And it's all free!
What rapid elearning tips do you have to share?  They don't have to be long and drawn out.  They could be real quick like Tracy's and Stephanie's.
Events
Free E-Learning Resources
49 responses to "Become an E-Learning Pro without Spending a Dime"