A few months ago I wrote a post on Microsoft getting rid of free clip art. For those with a budget that probably wasn't that big of a deal. But there are many who relied on the free assets that Microsoft provided, especially since they didn't include just clip art.
Losing free clip art isn't all bad news. There is some good news in all of this. A lot of the clip art was lame and negatively impacted many online courses and presentations. Not having it means we'll need to get better at our design and learn a few new skills.
How to Find Free Clip Art
Most online searches for "free clip art" produces very limited results and most of them are worse quality than the stuff Microsoft dumped. However, you may find some things you need. Here are a couple of free clip art sites:
Another option that I've mentioned before is to scavenge clip art images from older graphics programs. For example, often bookstores, office supply stores or computer stores will have discount bins where they sell out-of-date software. I look for multimedia creation software like greeting card makers. They usually have all sorts of assets. Be sure to read the EULA, though.
Switch from Free Clip Art to Free Vector Illustrations
If you change your search term from "free clip art" to "free vector images or illustrations" things change for the better. There are a lot more free images available and they're more up-to-date in terms of visual style.
The challenge with free vector illustrations is how to edit them. Free clip art was easy because in PowerPoint you could always right-click and ungroup them for easy editing. That's not the case with most of the free vector illustrations. You'll need to use a software application to edit them.
Customizing Free Vector Illustrations
Most of the free vector illustrations include a bitmap output such as .png. That's great for inserting them in your courses, but they're not vector files and can only be edited like regular images. In that case you'll need to learn to use an image editing program. If you don't already own one, Paint.net is free and Photoshop Elements is inexpensive and more than enough to handle basic editing tasks.
The vector file formats are usually .AI or .EPS. Those need to be edited in a more complex application than PowerPoint. There are a few options out there, but for the most part it's going to be Adobe Illustrator (which costs money) or Inkskape (a free opensource alternative).  The challenge is that they're not necessarily intuitive applications so you'll need to make an investment in learning how to use them.
I know very little about Illustrator, but I was able to fumble around and open an .EPS file and save the individual elements as .PNG graphics that I used for this free elearning template I shared a few weeks ago. With a little practice, basic editing is possible.
Inexpensive Alternatives to Free Clip Art & Vector Illustrations
Since I no longer have access to free clip art I had to make an investment in an image library. There are a plenty of options out there like iStock and ShutterStock, and most of them are fine.
But this does mean, I'll have to learn more about working with vector images and get a bit faster editing regular images, as well. It's on my schedule.
Create Your Own Images
There's no reason you can't create your own images. Here are a few ideas from previous posts: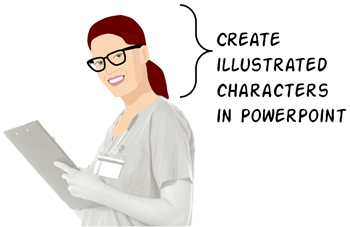 If you're interested, I'll be in San Francisco presenting a workshop on how to create your own assets for your elearning courses. In it you'll learn all sorts of practical tips and tricks.
Your Next Steps
Locate a good source for course images, whether free or not.
Learn to edit the images and illustrations.
Ask for a graphics budget to either create the images or hire someone more skilled to do it.
Take advantage of the free assets in the elearning community.
Elearning was a lot easier when everything was wrapped in the PowerPoint blanket. But that world is changing and we'll need to change with it.
Events
Free E-Learning Resources
19 responses to "How to Move Past Free Clip Art"