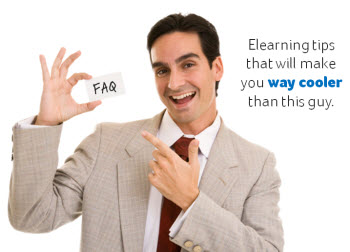 I get lots of questions via email and many of them are the same. So now's a good time to offer some quick answers and links to additional resources for those just getting started,
I have no budget. Where can I get free elearning assets?
This is the most frequently asked question. The first thing I recommend is to ask for a budget. It doesn't hurt to ask and you may find that you'll get one. If you do get a budget then you can stretch your money by purchasing the lower resolution images. You don't need print-quality images for elearning courses. I usually get my images from Fotolio or iStockphoto but there are dozens of good stock image sites.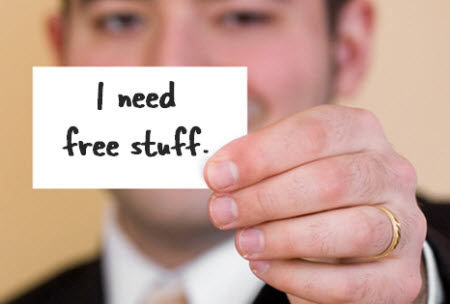 The new Microsoft Office site has a lot of the same images you'd buy from vendors like Fotolio available for free. So if you have a licensed copy of Microsoft's software you can feel comfortable using the images they provide. The new site also has a lot more up-to-date content so you're not stuck with some of the older clip art (unless of course you're designing a retro course on using Clippy).
By the way, Microsoft has a blog dedicated to templates and images.
A few more options are to:
At a recent conference you said we should learn to scrounge for assets. Do you have a few suggestions?
This question kind of builds on the one above. When you're working with limited resources you've got to find places where you can get good free or low cost assets. One of the things I do is subscribe to sites like AppSumo and Mighty Deals. They usually send a daily email with all sorts of deals. Most of them are not relevant to my needs. But every once in a while there's a good deal that works.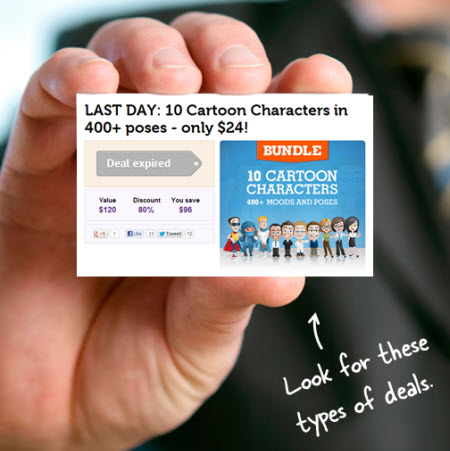 That's what I mean by scrounging. Keep your eyes open for places where you can get free or low cost assets. The only downside to the option above is that you get daily emails. I just delete what doesn't interest me. But if you don't want the emails, then this option won't work for you.
Which microphone do you use?
There are a lot of good microphones on the market depending on your needs. Considering that the question comes from those with limited budgets I'll offer a few ideas on low cost solutions. The links to Amazon mics may produce a slight commission.
I don't like to use headset mics because I have less control over mic placement. Instead I like to use desktop microphones because I can move them around. I generally use two Samson mics. They sound good and they're generally low cost.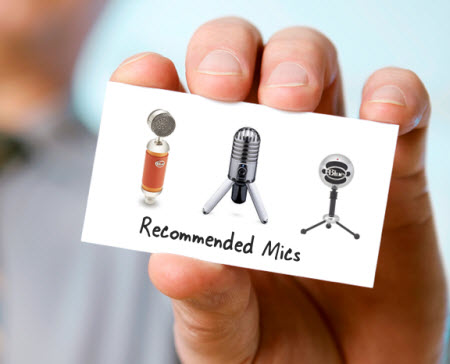 Samson C03U: let's you switch between pickup patterns.
Samson Go Mic: I love my Go Mic. It's portable and has a really good build quality. It also sounds as good as the larger mic.
These are mics that friends have recommended:
Just to be fair, I'm no audio engineer and there are lots of options and considerations when it comes to recording. If you want a low cost and simple recording process then the mics above are great solutions. But if you need more, jump into the elearning community and ask what others are doing.
How do I get my client to make courses more interactive?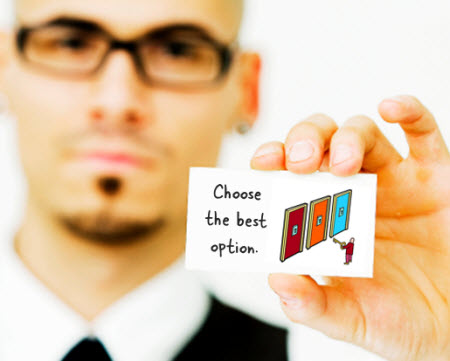 This is a common challenge. Here are a few quick thoughts:
Focus the content on action. If the course is only information, then it's hard to make it interactive. But if it's about performance, then interactivity makes sense.
It's easier to show than to explain. Create some treatments to show before and after examples of interactive elearning. When they see the difference, it'll make sense to them and they'll be more open to moving past the familiar click-and-read approach.
Some courses don't need to be interactive. Don't make them interactive because you want to. If it's only an information-based course, or if the client only cares about marking the course complete, then it may be easier to do a simple linear course than waste the learner's time navigating an interactive module.
I want to get a degree. What schools do you recommend?
There are a lot of re
ally good programs. I went to Pepperdine. I have some friends who really enjoyed the programs at Boise State and San Diego State. I've also had some contact with UMBC and Bloomsburg. Those are all fine programs.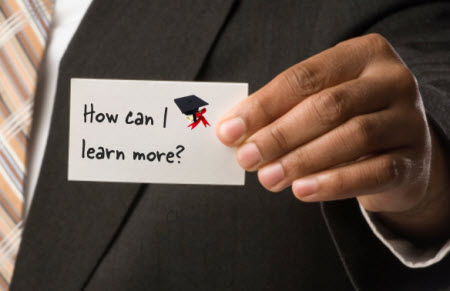 You may also want to consider an elearning certificate rather than a full program. I know some who've gone through the University of Washington's certificate program and really like it. Many of the programs that offer degrees also offer some sort of certification.
One of the people in the elearning community compiled a list of programs in case you're interested. Your best bet is to ask for recommendations from the community and then contact some of the programs to see what they offer. If I were going to start one I'd look for the ones that balance theory with practical application. I'd also look at the projects created by formers students. If I'm going to spend the money I want to make sure that I'll walk away with some good skills that I can apply right away.
There's also a good list of book recommendations in the community. Sometimes it's easier to go through a book and apply what you learn to a simple module then it is to spend a couple of years in an elearning program.
I found a bunch of business card images online. Any ideas how I can use them?
Great question. Sometimes a simple approach to information-based elearning is to create a quick FAQ module. Collect the most common questions or issues and then build your module on answering the questions. Business cards are great content holders and they offer an easy way show the FAQs.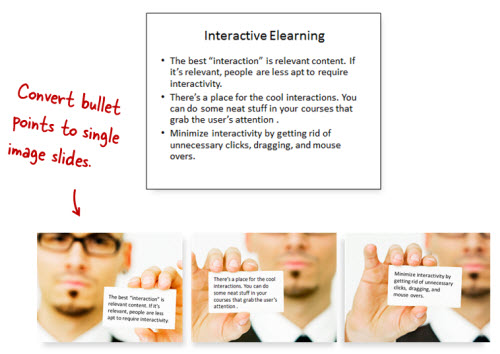 In a similar sense, those types of images could be replacements for bullet points. As an example, instead of a slide with three bullet points create three slides where the bullet point is on the business card. This is an easy way to create screens that are visually interesting at a very low cost.
Here are a couple of previous posts where I answered similar FAQs.
Hopefully this is a start for those just getting started. Be sure to take advantage of the free resources and connecting with your peers in the elearning community.
Events
Free E-Learning Resources
7 responses to "More Answers to Your Rapid E-Learning Questions"