One of the questions I'm asked the most is, "What font are you using?"  And it's usually asked when I've used a handwritten font.  That's because handwritten fonts really stand out from the font crowd.
Many of you are stuck with the default computer fonts.  So you end up with elearning courses that all use the same familiar fonts. When you do want a font that's less formal, you're kind of stuck with comic sans, and we all know how much people like comic sans.
Sure, you have the option of purchasing more fonts. But font packs can cost a lot; and many of the so-called "free" fonts are only available for non-commercial use.  That means you either buy them or you can't use them.
Personally, I consider free to mean free, without a bunch of legal, small print gobbledygook.  So what I am doing today is giving you some 100% Grade A free handwritten fonts created by me…and my family.  Use them as you wish.
Create Your Own Handwritten Fonts
Check out the link below.  You complete a template, scan it, and send it to the site to download a handwritten font.  I haven't used the site, so I can't speak to the quality or the process, but it sounds interesting.
Free Fonts: Handwritten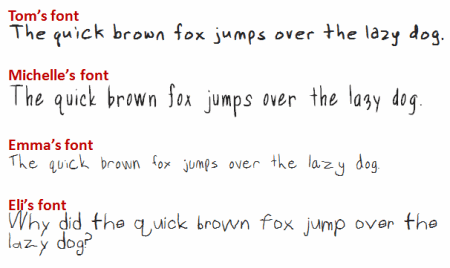 Free Fonts: Hand Drawn Arrows
Free Fonts: Hand Drawn Circles & Lines
Click here to download the handwritten free fonts.
Links to other "free" fonts.
You'll need to check out the licensing agreement for some of the fonts because many seem to only be free for personal, non-commercial use.
Events
Free E-Learning Resources
85 responses to "Over 100 Handwritten Free Fonts"