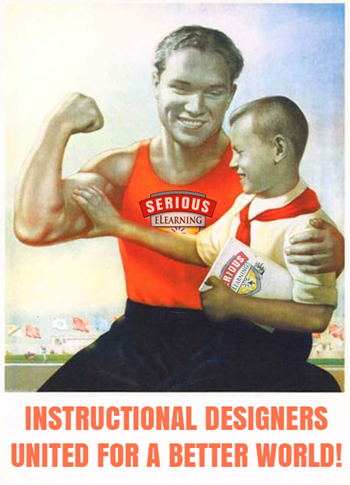 Had a great trip last week to Sydney and got to meet many of the blog readers I've corresponded with over the years. If you haven't attended an iDesignX conference, I recommend doing so. You get to meet many of your peers and sit in on some good presentations.
As I was returning home I ran into Dr. Werner Oppelbaumer at the Los Angeles airport. We had a few moments to chat about the state of the industry and what's new in his research.

There's a lot going on in our industry. What trends do you see when it comes to online training?

There is a lot of talk about MOOCs. The idea is very interesting but many of the courses are like old-school lectures put online. Their biggest challenge is a lack of identity coupled with reaching the next generation who have grown up on games.
At Werner Labs we've come up with a solution for both. As all trainers know, good training starts with a good logo. Don't waste time trying to teach anything without an appropriate logo. Besides, if you don't have a logo what will you put on your slides?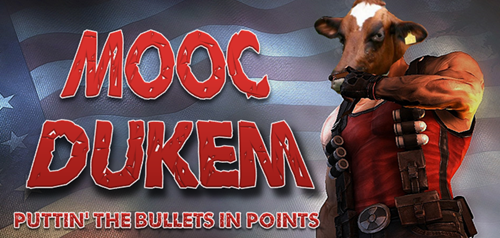 Werner labs created a prototype logo to build the MOOC brand and reach young people. We created a gamified logo to attract the young generation who only know how to play games and complain that their Red Bulls are too warm.

That's interesting. I am sure that the gamification angle will pay dividends. Speaking of MOOCs, I've read that they have a very high drop off after initial enrollment. Any thoughts on how that can be fixed?

Yes. At Werner Labs we created a MOOC Collar™. When you enroll in a course we send a reminder collar which is connected to your course's MOOC app. If participation drops, the instructor can send a friendly reminder. You can test the MOOC Collar™ app here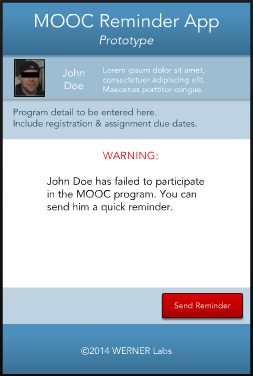 Click here to test the application.

Speaking of courses, there's been a lot of buzz in the elearning community concerning the elearning manifesto. It addresses some issues with the current state of elearning and seems to cover a lot of the key points you've been pushing the last 40 years. What are your thoughts?

I actually just delivered a presentation concerning something similar. That's why I was in Los Angeles. But here are a few quick thoughts. You can view my presentation below.
Impressive Logo. As I mentioned before, good training starts with a good logo. It looks like the manifesto team spent valuable time agreeing on a solid logo. I am sure that it was a challenge just getting to a consensus on the spelling of elearning eLearning.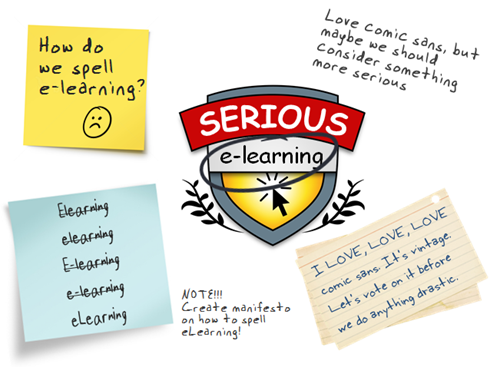 Great presentation. When I first heard the hoopla I was concerned that the elearning experts were going to take me through some sort of interactive asynchronous learning experience. But I was mistaken.
I'm glad they decided to go with the tried-and-true formula of a synchronous meeting where they lectured and read their slides. It was so refreshing. I just leaned back in the chair, closed my eyes, and soaked it all up.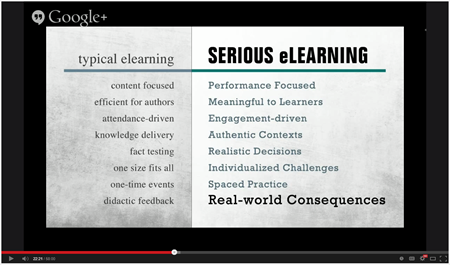 I will add that they did miss a golden opportunity to create an acronym to help us better remember the principles.
Creative Commons. Since the manifesto is under a Creative Commons license we are free to use it as we wish, even for commercial purposes. As you know Werner Labs is a for-profit enterprise and we are already working on manifesto-licensed merchandise.
The first two products are a winter coat inspired by East German manifesto writers of the past and Manifesto Pesto, a nice tasty pasta sauce.

Interesting observations. As always, thanks for the time and letting me post your presentation below. I'm sure we'll learn something new.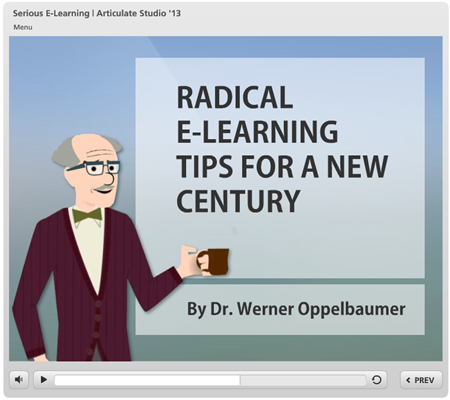 Click here to view Dr. Werner's presentation.
Have a great day!
Events
Free E-Learning Resources
25 responses to "Radical E-Learning Tips for a New Century"