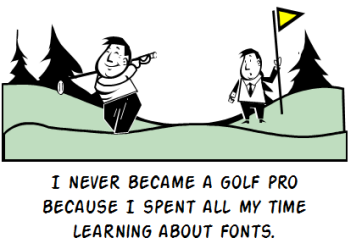 None of us have time to get caught up in wonky font talk. But the reality is that when building your online training courses you'll need to select a font to use.
In a previous post we looked at simple ways to create font pairs when building elearning courses. But that still requires some time on your part. In today's post we'll look at a time-saving tip when pairing fonts for course design.
For the budget-minded you can always use Google's web fonts. They're free and easy to download. One of the features I like best about Google web fonts is that they already do some font pairing for me. That's a big time-saver.
Create Font Pairs in Google Web Fonts
The first step when trying to pair fonts with Google web fonts is to filter them. You can filter by four types: serif, sans serif, display, and handwriting. Once you have a type selected you can filter by thickness, slant, and width.
Start with the title font. Most likely the easiest place to start is with a heading or title font. They tend to have the most personality and contextual representation of the online course subject.
Pop out the font. At the bottom of each font line is a pop out icon. This lets you isolate the font and look at the entire character set.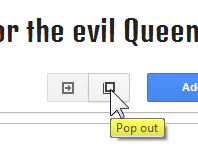 Select the Pairings tab. Google pairs the selected font with other fonts so you can see how they look. If they look good and follow the simple rules, then make that font pair a keeper.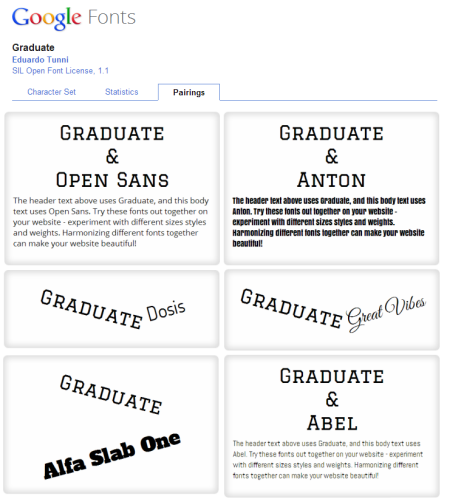 Here's a tutorial that shows how to locate and pair fonts in Google web fonts.
Create Theme Fonts in PowerPoint and Storyline
Once the font pair is identified, download the fonts and them to PowerPoint or Storyline's design tab as a theme font. Then you always have quick access to the font pair which will save tons of time.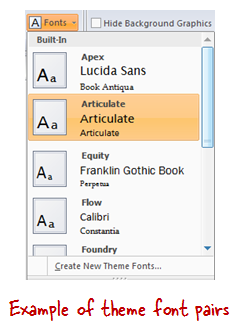 When building your elearning course, you know you'll use fonts. And you know that you'll need to pick the right fonts. Now you know that you can do this a lot easier and with no cost using Google web fonts.
Events
May 21-24 (San Diego): ATD ICE. Come visit the booth.
June 1 (Johannesburg): 2023 Learning Indaba Conference. Delivering a keynote presentation and afternoon e-learning workshop. You can also sign up to attend the conference sessions virtually. Register here.
June 2 (Johannesburg): Articulate User Roadshow. Connect with other users and learn all sorts of tips & tricks. Learn more here.
June 6 (Cape Town): Articulate User Roadshow. Connect with other users and learn all sorts of tips & tricks. Learn more here.
Everyday. Check out the weekly training webinars to learn more about Rise, Storyline, and instructional design.
Free E-Learning Resources
10 responses to "Become a Font Pro with This Time-Saving Tip"