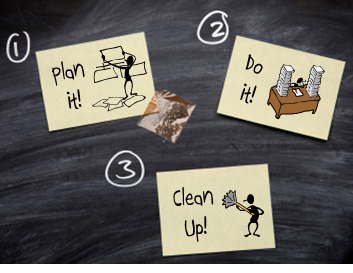 I like to keep things simple so I usually package ideas around three key points.  It all started when I was taught that there are three steps to getting things done:
Prepare to do the job. 
Do it.
Then clean up when you're done.
Did this give me all the details I needed to do the job?  No.  But it did provide some clear steps to guide me.  And that's what I see as my mission with this blog.
I like to provide some simple steps to help you move in the right direction.  Of course there'll be some gaps between the steps, but that's OK.  They'll get filled as you apply what you're learning and gain more experience.
For this week's post I decided to review all of the posts where I provided three steps to do something.  You'll find them below with a summary (and of course loosely organized in three groups).
General Thoughts on Rapid E-Learning
Instructional Design
Graphics & Course Design
So there you have it.  Seventy rapid elearning tips that will help you get started, save time, and find the resources you need to build better elearning.
Free E-Learning Resources
11 responses to "Three Ways That These 70 Rapid E-Learning Tips Will Help You Build Better Courses"