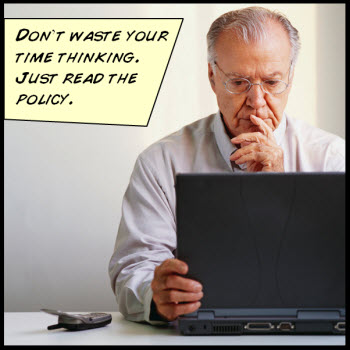 This past week I was in Nashville where we discussed building interactive scenarios. Part of the discussion revolved around designing some simple scenario strategies to move the projects away from linear elearning and towards meaningful interactivity.
The ultimate goal is transitioning from a push model where we just provide information and move to a more interactive model where the learner makes the same types of decisions she'd make in a real-world environment. These decision-making activities are used to reinforce what you want her to practice and learn so that your courses have real-world impact.
Simple Structure for Scenarios
As I've shared before, I like to use what I call the "3C model" to construct my scenarios or interactive elearning. We'll assume that the scenario is relevant to the learner and what needs to be learned. And in that context (which could be a fourth C) here's how the 3C approach works:
Challenge: The goal is to engage the learner and challenge her understanding. Present a situation, get her to process some information, reflect, and then let her make a decision.
Choices: Once the learner is challenged, she needs to make a decision (or series of decisions). Provide some choices to work through the challenge. The choices should all be viable and realistic options. Don't waste time on meaningless choices.
Consequences: Each choice produces a consequence. Sometimes the consequence may lead to immediate feedback; and sometimes it may lead to additional challenges that compound the situation. We don't usually get immediate feedback, unless of course you stick a finger in a wall socket. So stacking or delaying the feedback can make the learning experience much more dynamic and more true to the way things work in real life.
There are a few different ways I use the 3C model to template the interactive scenarios. In today's post, we'll explore what I see as the more complex type of branching.
Complex Decision-Making Interactions
Some elearning courses are more like marketing pieces. In those cases if all you need to do is share information, then a branched interaction is probably too much and can frustrate the person who has to take the course. So let's assume you're teaching to improve performance.
Performance-based courses usually come in one of two flavors. There are courses that teach procedures, like the ten steps to loading a widget. And then there are courses that teach principles that guide decisions, like much of the soft skills training.
Most likely you're not using branched interactions for training on simple procedures. Those are easy enough to show and then get people to practice and demonstrate they can follow the procedures. 
Branched interactions come in handy when you have nuanced situations and are trying to help people think through them and make appropriate decisions. You're less focused on the specific, step-by-step procedures and more focused on principles that guide decisions.
If you want to build a complex branched interaction, look at the 3C model as a single building block, kind of like a Lego brick. For each consequence link to a new challenge. In that way you'll get a branched interaction that looks something like the image below.
Pros & Cons of Complex Branching
We rarely have to make clear right-wrong choices when dealing with people or situations. Many of the decisions we make are nuanced. And a solution that works in one situation may not work in another. Because of this complex branched interactions are great for getting to the heart of the principle that you're teaching.
There are a few challenges with complex interactions. The first is that they take a lot more time to develop. So if you're pressed for time, then you may want to look at a more streamlined approach.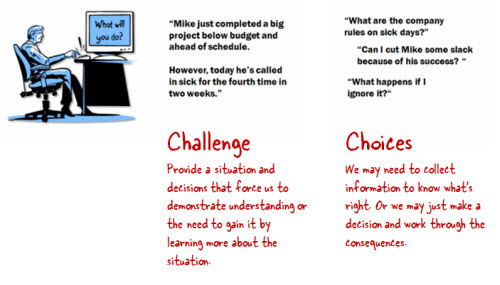 Another challenge is that it's hard enough to get your subject matter expert to give you ten good multiple choice questions. So imagine the difficulty in getting them to help you work through a complex scenario and all of the nuances. If you're not the content expert, you'll need to figure out who's going to help you through the content to craft relevant and meaningful interactions.
The first two challenges can be overcome by allocating more time to develop the course and more time to work with the subject matter expert. But this next challenge is a bit more difficult to overcome, and that's the matter of creativity and good writing.
Learn More About Storytelling
A complex branched scenario is a like a story. We can all write; however that doesn't mean we are all good writers who can craft compelling interactive stories. This takes some practice and creativity.
But there are things we can do to learn and become better at crafting stories. Here are a few tips to help move you in the right direction:
Keep the scenarios simple. The less complex they are, the less you get tangled in a lot of extra script writing and scenario building.
Review what makes a good story. Learn about storytelling and how to compose them. And when you think through your scenarios, determine how to follow a storytelling model. Here's a good site that has all sorts of resources on storytelling and here's a list of books.
Take a creative writing class to help think in a different way. Elearning courses tend to have that corporate voice that read more like they were written by lawyers and not real people (although it's been alleged that lawyers are real people). By taking a creative writing class, you'll learn to write with a different voice and learn to look at what you write in a different way.
Read some books on storytelling and scenario-building. Here are a few specific to our industry that may help: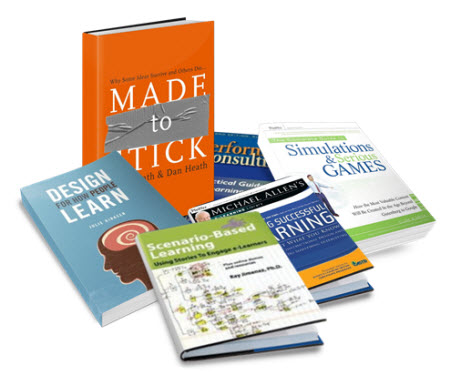 Are there other good books you'd add to the list? If so, add it in the comments section and tell us why it's a good book.
There's a reason a lot of elearning isn't more interactive. We have limited time and lack of access to the subject matter expertise needed to craft good scenarios. But using interactive scenarios can transform what might be a boring click-and-read course into a dynamic and effective learning experience. So if you haven't tried to build one yet, give it a shot and see how you do.
If you've built interactive branched scenarios in the past, what tips would you share for the person just getting started? Share your tips by clicking on the comments link.
Events
Free E-Learning Resources
26 responses to "An Easy Way to Build Branched Scenarios for E-Learning"